Singapore's newest natural attraction, Bird Paradise Singapore, has taken flight in 2023, captivating visitors with its stunning collection of avian wonders.
Located in Mandai, Bird Paradise is a sprawling aviary that replaced the renowned Jurong Bird Park. As part of the Mandai Wildlife Reserve, which also includes the Singapore Zoo, Night Safari, River Wonders, and the upcoming Rainforest Wild Park, Bird Paradise offers an unparalleled experience for nature enthusiasts.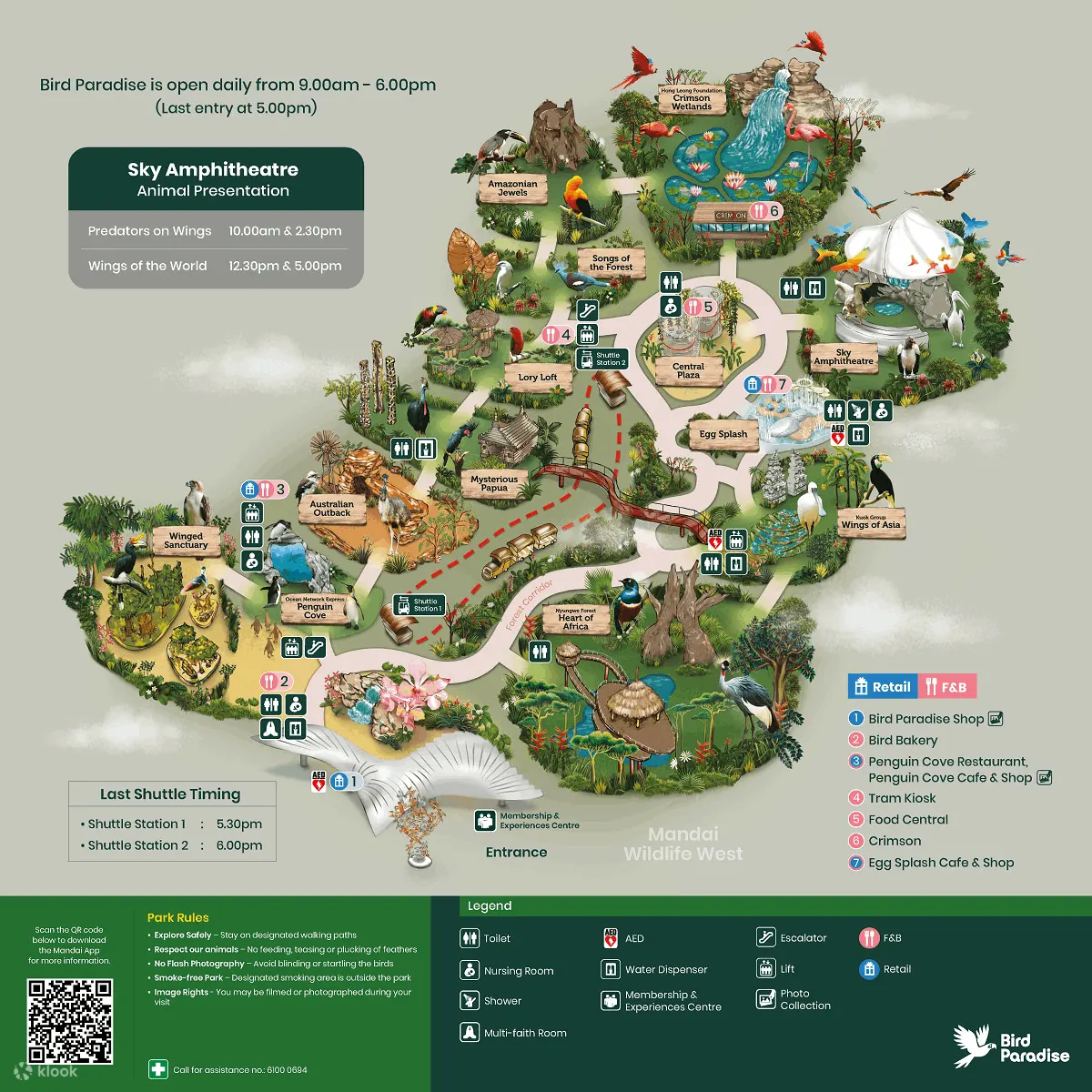 Spanning approximately 17 hectares (42 acres) and featuring larger and more expansive walk-in aviaries than its predecessor, Bird Paradise promises an extraordinary adventure for visitors of all ages.
Places to Explore at Bird Paradise
Ocean Network Express' Penguin Cove: Step into the world of sub-Antarctic wonders at Penguin Cove, one of the most mesmerizing exhibits in Bird Paradise. This two-level building showcases underwater viewing galleries that replicate kelp forests, providing an immersive experience. Marvel at the king penguins, gentoo penguins, humboldt penguins, northern rockhopper penguins, and other subantarctic birds that call this exhibit home.
Winged Sanctuary: Enter the serene haven of Winged Sanctuary, where over 20 species of hornbills reside. Enclosed within well-planted mesh and steel aviaries, this exhibit is a true paradise for bird lovers. Keep an eye out for the magnificent Philippine eagle, Maleo, Brahminy starling, Santa Cruz ground dove, and other rare and predatory birds that inhabit this sanctuary.
Australian Outback: Immerse yourself in the semi-arid environment of the Australian Outback aviary. Wander through the landscape adorned with eucalyptus trees, termite mounds, and aboriginal cave paintings. Here, you'll encounter fascinating creatures such as emus, red-tailed black cockatoos, galahs, and tawny frogmouths.
Mysterious Papua: Embark on a journey to the coastal forests of Papua New Guinea at the Mysterious Papua aviary. Be captivated by the pavilions styled after the huts of the Korowai tribe and the viewing galleries inspired by Sepik houses. Encounter vibrant lorikeets, majestic southern cassowaries, and colorful eclectus parrots in this captivating exhibit.
Lory Loft: Prepare to be delighted at the Lory Loft, a revival of the beloved attraction from the former Jurong Bird Park. Step into this enchanting space that houses a variety of parrots, including the rainbow lorikeets, chattering lories, black-capped lories, and pesquet's parrots. Don't miss the chance to see the large breeding population of blue-eyed cockatoos in this lively aviary.
Amazonian Jewels: Explore the lush greenery of the Amazon rainforest in the Amazonian Jewels aviary. With its well-planted surroundings, this exhibit replicates the natural habitat of South American birds. Marvel at species such as the andean cock-of-the-rock, cracids, toucans, and green oropendolas. Take a moment to appreciate the viewing area resembling a large tree stump, while bromeliads dot the aviary.
Songs of the Forest: Delight in the melodious songs of Southeast Asia's rarest songbirds at the Songs of the Forest exhibit. Encounter species such as the straw-headed bulbul, Javan green magpie, Bali myna, and other elusive forest birds. This exhibit also sheds light on the urgent need to protect endangered songbirds from illegal trading.
Hong Leong Foundation's Crimson Wetlands: Transport yourself to the wetland habitats of Latin America at the Crimson Wetlands aviary. Marvel at the grand waterfall that overlooks a lake where American Flamingoes gracefully roam. Take a moment in the sheltered underwater viewing gallery to observe diving ducks, scarlet ibises, and roseate spoonbills. Don't forget to look out for the colorful parrots, including macaws and sun parakeets, gathering near the clay wall.
Kuok Group's Wings of Asia: Immerse yourself in a Balinese environment at Wings of Asia. As you traverse thick forests, bamboo groves, and rice terraces, encounter an array of bird species. Observe Blyth's hornbills, green peafowls, white-crested laughingthrushes, pied imperial pigeons freely roaming the aviary, while water birds like milky storks, Australian pelicans, bar-headed geese, and Baer's pochards frolic near the rice terraces.
Heart of Africa: Prepare for an awe-inspiring experience at the largest aviary in Bird Paradise, the Heart of Africa. Inspired by the densely forested areas of the Nyungwe Forests in Rwanda, this exhibit offers suspension bridges that allow visitors to view birds residing in different layers of the canopy. Witness the grace of cranes, guineafowls, weavers, glossy starlings, turacoes, and parrots. Don't miss the pond housing a mixed flock of greater and lesser flamingoes, along with the artificial cliff that shelters northern carmine bee-eaters.
How to Get to Bird Paradise
To reach Bird Paradise, you have several options:
Public transportation: Just like the neighboring Singapore Zoo, Night Safari, and River Wonders, Bird Paradise has its own bus stop. You can take bus services 138 or 927. Bus 138 connects to the nearest MRT station, Springleaf MRT station, as well as Ang Mo Kio MRT station. Bus 927 connects to the Choa Chu Kang MRT/LRT station. Another option is bus service 171, which stops near the reserve but does not pass through it.
If you prefer taking a cab, simply drop off after the Mandai Archway, a huge 85-meter long rock archway with animal carvings. It's an excellent spot for fun photo ops. From there, enter through the glass doors, take two escalators up from the waterfall, and walk straight past the stretch of F&B outlets (Banana Leaf, Starbucks, and others). At the end of this stretch, you'll find the entrance to Bird Paradise.
Presentation: Predators on Wings

Location: Sky Amphitheatre
Timing: 10:00 AM and 2:30 PM
Show details: Experience the awe-inspiring spectacle of Predators on Wings, a captivating presentation that showcases the remarkable flying skills and hunting techniques of birds of prey. Watch in amazement as these majestic creatures take flight, soaring through the sky with precision and grace. Learn about their unique adaptations, hunting strategies, and their important role in maintaining the balance of nature. It's a thrilling showcase of power, agility, and natural beauty.

Presentation: Wings of the World

Location: Sky Amphitheatre
Timing: 12:30 PM and 5:00 PM
Show details: Immerse yourself in the diverse and vibrant world of avian wonders with Wings of the World. This presentation takes you on a journey across continents, introducing you to a wide variety of bird species from around the globe. Discover the fascinating behaviors, vibrant colors, and distinct vocalizations of these feathered creatures. Gain a deeper appreciation for their ecological significance and the importance of conservation efforts to protect these incredible species. It's an educational and entertaining exploration of the rich diversity of birdlife on our planet.
Note: Please check the show schedules at the Sky Amphitheatre for any updates or changes in timings.
Opening Hours and Admission Fees
Bird Paradise is open from 8:30 AM to 6:00 PM daily.
Admission fees:

Senior Citizen (Applicable for local residents aged 60 years and above): S$20
Remember, Bird Paradise is an immersive aviary experience, so be sure to allocate enough time to explore all the exhibits and enjoy the shows. It's a must-visit destination for nature lovers and bird enthusiasts alike. Plan your visit today and have an unforgettable time at Bird Paradise!
Disclaimer: Please note that the article contains affiliate links to our trusted partner, Klook. By clicking on these links and making a purchase, we may earn a small commission at no additional cost to you. Rest assured, you, as the customer, do not pay any extra fees or charges for using these links. The commission we receive is solely provided by Klook as a way to support our efforts in providing valuable content and recommendations. We appreciate your support and encourage you to make informed decisions based on your own preferences and needs.