Orchard Road Singapore: Where Dreams Blossom in the Garden City
Nestled in the heart of Singapore, Orchard Road (O.R.) stands as an iconic and vibrant destination that captivates the attention of tourists from around the world. This bustling district boasts a plethora of shopping malls, entertainment venues, and exquisite dining options, making it a magnet for travelers seeking an immersive experience in the Lion City.
From renowned luxury fashion houses to coveted designer labels, O.R. offers a retail paradise that leaves shopaholics in awe. Here are 10 iconic luxury brands you can find along this renowned shopping boulevard:
1. Louis Vuitton
2. Chanel
3. Gucci
4. Prada
5. Hermès
6. Cartier
7. Burberry
8. Dior
9. Versace
10. Saint Laurent
These esteemed brands showcase their latest collections in Orchard's upscale malls, enticing fashion enthusiasts and connoisseurs alike. From timeless classics to cutting-edge trends, O.R. serves as a captivating destination for those seeking a truly indulgent shopping experience.
Finding the Best Hotels for a Comfortable and luxury stay in Orchard Road
When it comes to planning a visit to Orchard, selecting the perfect luxury hotels in Singapore is of paramount importance to ensure a comfortable and enjoyable stay. A best luxury hotel not only provides a sanctuary for rest and relaxation but also plays a crucial role in enhancing the overall experience of exploring Orchard's charm.
From convenient access to nearby attractions (such as Botanical Garden) and MRT to exceptional amenities and impeccable service, the right hotel choice sets the tone for an unforgettable journey through this bustling district.
Factors to Consider When Choosing a Hotel in Orchard Area
A. Location and Accessibility
The location of a hotel is a fundamental aspect to consider while choosing accommodation in Orchard. Opting for a hotel in close proximity to key attractions such as O.R itself ensures easy access to the myriad of shopping delights, world-class dining establishments, and vibrant entertainment venues that define the district's allure. Moreover, convenient access to transportation hubs, such as MRT stations or bus stops, offers seamless connectivity to other parts of Singapore, facilitating effortless exploration of the city's captivating landmarks and cultural treasures.
B. Room Rates and Available Amenities
Finding the right balance between affordability and the desired level of comfort is essential when considering room rates and available amenities. Orchards Road offers a range of hotels catering to different budgets and preferences.
Travelers can choose from luxury hotels that pamper guests with lavish suites and upscale amenities, to boutique establishments that provide a more intimate and personalized experience.
Amenities like complimentary Wi-Fi, well-equipped fitness centers, refreshing swimming pools, rejuvenating spa facilities, and diverse on-site dining options contribute to a pleasurable and convenient stay, enhancing the overall enjoyment of Orchard's vibrant ambiance.
C. Customer Reviews and Ratings
To ensure a satisfying stay, it is prudent to explore customer reviews and ratings of the hotels under consideration. Insights from previous guests provide valuable perspectives on the overall quality of service, cleanliness, and overall guest experience. Positive reviews highlighting exceptional service, friendly staff, and well-maintained facilities can instill confidence, while negative reviews flagging issues such as noise disturbances or inadequate amenities can help in making an informed decision. By thoroughly researching customer feedback, travelers can select a hotel that aligns with their preferences and expectations, ensuring a comfortable and enjoyable stay in Orchard.
D. Unique Features or Offerings of Each Hotel
Distinctive features and offerings of hotels in Orchard can serve as a deciding factor in the selection process. Some hotels may provide additional perks such as complimentary breakfast, welcome amenities, or special packages tailored to specific interests like shopping or cultural immersion. Whether it's a rooftop bar boasting panoramic city views, an in-house spa offering indulgent treatments, or concierge services providing insider tips on hidden local gems, these unique offerings contribute to a memorable and extraordinary experience that sets certain hotels apart from the rest. Assessing these unique features allows travelers to find a hotel that complements their personal preferences and enriches their time in Orchard Singapore.
By thoughtfully considering these factors, travelers can make well-informed decisions when choosing a hotel in Orchard Singapore. The perfect accommodation choice will serve as a comfortable base from which to explore the district's vibrant offerings, ensuring a memorable and enchanting experience amidst the captivating energy of Orchard.
Orchestrating Opulence: Unveiling the Best Luxury Hotels on Orchard Road
Discover a world of unparalleled elegance and sophistication at the luxurious hotels lining O.R.. These opulent establishments redefine the concept of luxury, offering lavish accommodations and a host of exquisite amenities. Immerse yourself in a realm of impeccable service, where dedicated staff cater to your every need with professionalism and grace.
Indulge your senses with an array of delectable dining options crafted by renowned chefs, tantalizing your taste buds with flavors from around the world. Enjoy breathtaking views of the city skyline or the lush greenery that surrounds these exceptional hotels, providing a serene and relaxing ambiance.
From exclusive spa facilities to state-of-the-art fitness centers and stunning rooftop pools, the range of amenities ensures that every aspect of your stay is exceptional. With their prime location on O.R. you'll have convenient access to premier shopping and entertainment venues, adding to the allure of your luxurious experience. Let each moment unfold with personalized experiences and meticulous attention to detail, creating lasting memories that epitomize true luxury.
Sparkling Gems of Orchard: 5 Star Hotels that Redefine Luxury in Singapore
Indulge in the iconic luxury of Orchard's sparkling gems, where 5-star hotels redefine the very essence of luxury hospitality. Step into a world where timeless elegance seamlessly blends with modern comforts, as these exquisite establishments offer impeccable service and refined experiences.
Unwind in lavishly appointed suites, adorned with exquisite furnishings and luxurious amenities that cater to your every desire. Embark on a gastronomic journey of culinary delights, as world-class chefs craft masterpieces that tantalize your palate with sensational flavors.
Immerse yourself in the captivating ambiance of these hotels, where sophistication and refinement permeate every corner, creating an atmosphere of pure indulgence. Marvel at breathtaking views that serve as a captivating backdrop to your luxurious retreat, adding an extra touch of enchantment to your stay.
Rejuvenate your body and mind at exclusive spas and wellness centers, where expert therapists provide tailored treatments for ultimate relaxation. Every moment spent within these exceptional hotels becomes a cherished memory, as you immerse yourself in the extraordinary experiences they offer.
15 Luxury Hotels near Orchard Singapore: Our Pick
Curated by Rebecca of SingaporeCity360.com, here are the exquisite details of the top 15 hotels that grace the renowned Orchard Road in Singapore:
1. Ascott Orchard Singapore
   – Stars: 5 stars
   – Hotel Extras: Luxurious serviced apartments with fully equipped kitchens, rooftop swimming pool, fitness center, and concierge services
   – Distance: Located on Orchard Road
   – Price Range: S$454 – S$630
   – Address: 11 Cairnhill Road, Orchard, 229724 Singapore, Singapore
   – Tripadvisor Reviews:
     1. "Absolutely stunning! The rooms were spacious and beautifully designed. The staff went above and beyond to make our stay memorable." 
     2. "Great location with easy access to shopping and dining. The amenities were top-notch and the service was exceptional."
     3. "Highly recommended! The Ascott Orchard provided a comfortable and luxurious experience from check-in to check-out."
2. Quincy Hotel Singapore
   – Stars: 4 stars
   – Hotel Extras: Indoor swimming pool, including breakfast, evening cocktails, and laundry services
   – Distance: Approximately 3 minutes' walk to O.R.
– Price Range: S$363 – $460 (10% OFF if you registered with Booking.com)
– Address: 22 Mount Elizabeth, Orchard, 228517 Singapore, Singapore
   – Tripadvisor Reviews:
     1. "Fantastic hotel with amazing amenities. The complimentary cocktails and breakfast were a delightful surprise!" 
     2. "Quincy Hotel exceeded our expectations. The rooms were stylish, the staff was attentive, and the inclusive services made our stay stress-free." 
     3. "Great location, friendly staff, and excellent facilities. Quincy Hotel provided a unique and enjoyable experience."
3. Shangri-La Hotel Singapore
   – Stars: 5 stars
   – Hotel Extras: Lush tropical gardens, multiple award-winning restaurants, a luxurious spa, and family-friendly amenities
   – Distance: Approximately 10 minutes' walk
– Price Range: S$475 – S$1500
– Address: 22 Orange Grove Road, Orchard, 258350 Singapore, Singapore 
   – Tripadvisor Reviews:
     1. "An oasis in the city. Shangri-La Hotel is a beautiful property with attentive service, superb dining options, and serene surroundings." 
     2. "Exquisite accommodations, outstanding facilities, and a truly luxurious experience. Shangri-La Hotel Singapore sets the bar high for excellence." 
     3. "The staff at Shangri-La went above and beyond to make our stay special. The hotel's gardens and pool area provided a serene escape from the city buzz." 
4. Pullman Singapore Orchard
   – Stars: 5 stars
   – Hotel Extras: 10/10 for strategic location, in the heart of Orchard Road, comfortable rooms, outdoor swimming pool
   – Distance: 0 minutes walk
– Price Range: S$402 – S$1400
– Address: 270 Orchard Road, Orchard, 238857 Singapore, Singapore
   – Tripadvisor Reviews:
     1. "Great value for money! Pullman Singapore Orchard offers clean and comfortable rooms, a good breakfast spread, and friendly staff." 
     2. "The hotel's location was convenient for exploring the shopping district. The rooms were cozy and the service was excellent for a 5 Stars hotel." 
     3. "Pullman Singapore Orchard provided a comfortable stay without breaking the bank. The staff was helpful and the breakfast was nice"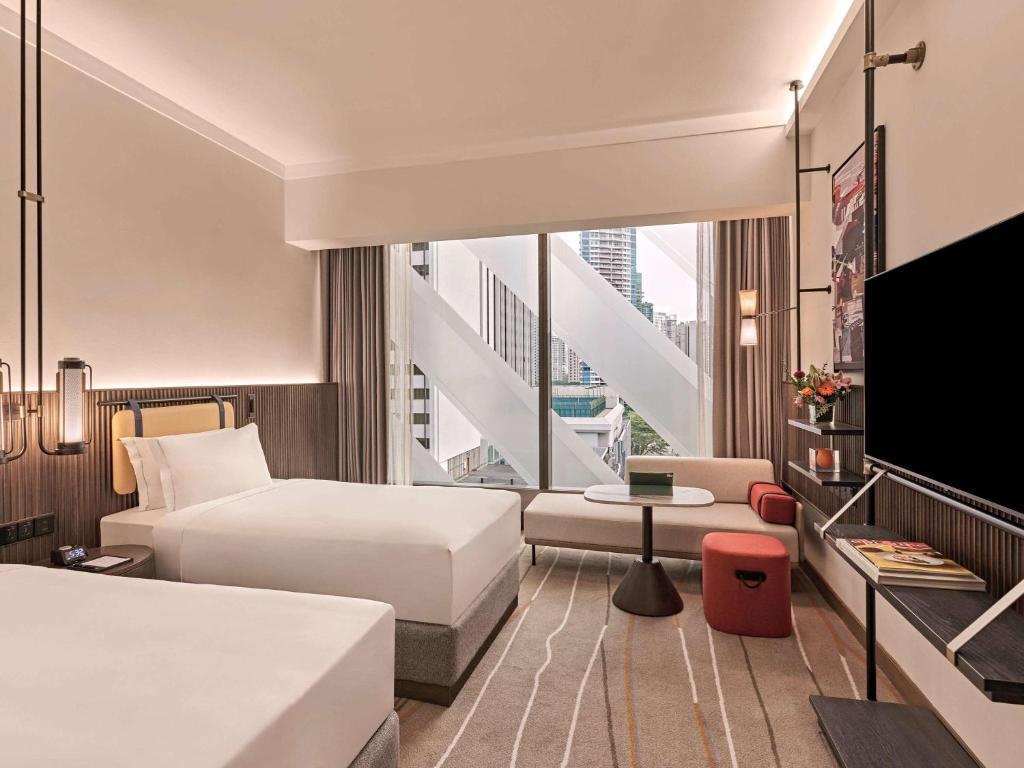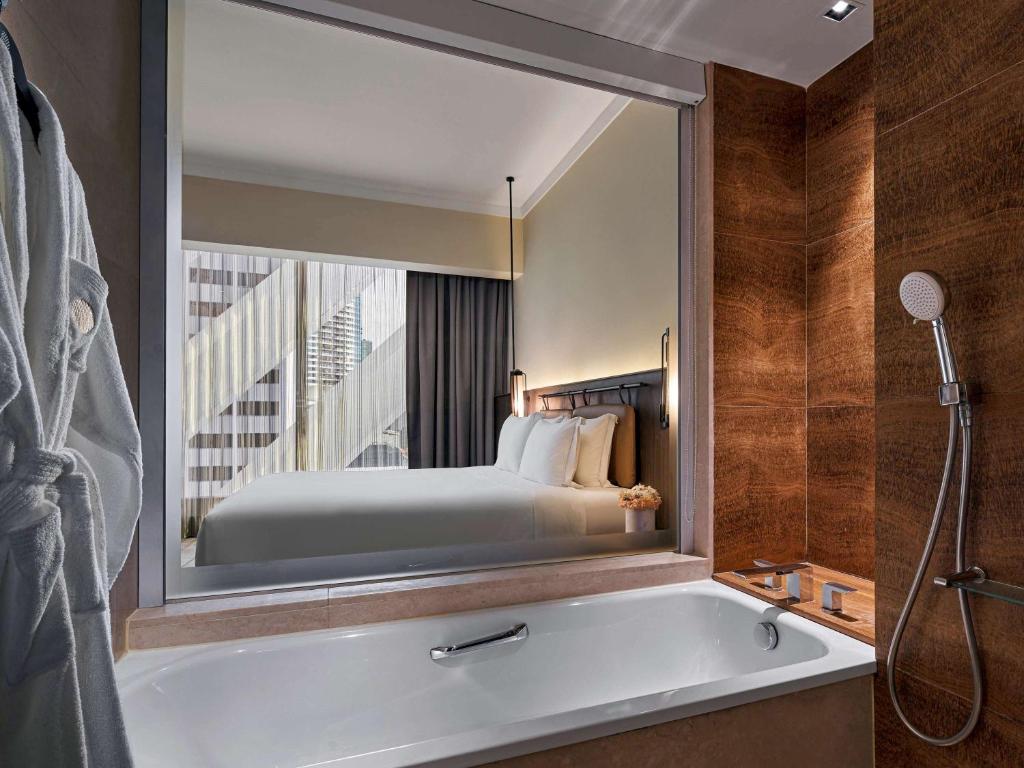 5. Goodwood Park
   – Stars: 5 stars
   – Hotel Extras: Colonial heritage architecture, lush gardens, and a vintage-style poolside bar
   – Distance: Located on Scotts Road, adjacent to O.R.
– Price Range: S$510 – S$950
– Address: 22 Scotts Road, Orchard, 228221 Singapore, Singapore
   – Tripadvisor Reviews:
     1. "A heritage gem in the heart of the city. Goodwood Park offers a blend of old-world charm and modern luxury, with impeccable service." 
     2. "The hotel's attention to detail and stunning architecture made our stay truly memorable. Don't miss the delightful dining options!" 
     3. "Goodwood Park exceeded our expectations in every aspect. The staff was courteous, the rooms were elegant, and the overall ambiance was exceptional." 
6. Grand Hyatt Singapore (Terrace Wing will re-open in Q4 2023)
   – Stars: 5 stars
   – Hotel Extras: Outdoor pool, award-winning restaurants, luxurious spa, and contemporary rooms with floor-to-ceiling windows
   – Distance: Approximately 3 minutes' walk
Notice: Grand Hyatt Singapore embarked on a multi-year transformation in October 2021 to herald a bold future filled with more iconic moments. The hotel is completely closed from 19 September 2022.
Terrace Wing and its facilities will re-open in Q4 2023 while guestrooms in Grand Wing will open in 2024. Accommodation bookings will be available once the hotel's reopening date has been confirmed. The hotel is currently accepting enquiries for groups and events for 2024.
7. Singapore Marriott Tang Plaza
   – Stars: 5 stars
   – Hotel Extras: 10/10 for strategic location, convenient location above Orchard MRT station,  rooftop pool with panoramic city views, in the heart of Orchard Road, unique architecture: 33-storey pagoda-like tower
   – Distance: Located on O.R. (0 minutes walk)
– Price Range: S$487 – S$1159
– Address: 320 Orchard Road, Orchard, 238865 Singapore, Singapore
   – Tripadvisor Reviews:
     1. "Singapore Marriott Tang Plaza offers a superb location for exploring O.R. The hotel's amenities and service were top-notch." 
     2. "We were impressed by the spacious rooms and attentive staff. The rooftop pool was a highlight, providing a relaxing oasis in the heart of the city." 
     3. "A wonderful stay with excellent facilities and friendly staff. The hotel's central location made it easy to explore O.R's attractions."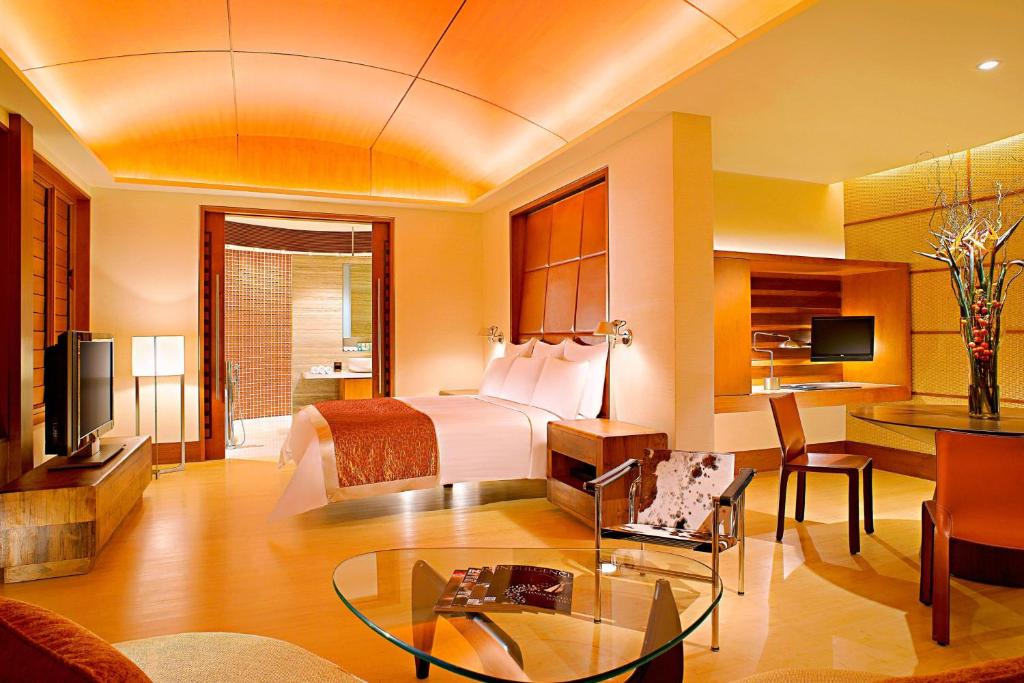 8. Royal Plaza on Scotts
   – Stars: 5 stars
   – Hotel Extras: Complimentary minibar, award-winning buffet restaurant, value for money, self-service laundromat, and dedicated wellness floor
   – Distance: Located on Scotts Road, adjacent to O.R
– Price Range: S$345 – S$1091
– Address: 25 Scotts Road, Orchard, 228220 Singapore, Singapore
   – Tripadvisor Reviews:
     1. "Royal Plaza on Scotts is a gem in the heart of Orchard. The complimentary minibar and outstanding buffet made our stay truly memorable." – 
     2. "The hotel's attention to detail and personalized service were impressive. The self-service laundromat was a convenient feature for longer stays."      
3. "Royal Plaza on Scotts exceeded our expectations. The hotel's prime location and comfortable rooms made it a perfect base for exploring O.R." 
9. Yotel Singapore Orchard Road
   – Stars: 4 Stars
   – Hotel Extras: 10/10 for strategic location, 270m to Orchard MRT, 400m to Lucky Plaza, outdoor pool, and a central location near shopping and dining establishments, value for money, new & modern, fast check-in with self-service counter
   – Distance: Located on O.R. (0 minutes walk)
– Price Range: S$254 – S$630
– Address: 366 Orchard Road, Orchard, 238904 Singapore, Singapore
   – Tripadvisor Reviews:
     1. "Yotel Singapore Orchard Road offers a unique and futuristic experience. The high-tech cabins and robot concierge added a fun touch to our stay."
     2. "The hotel's central location made it convenient to explore O.R's attractions. The rooftop pool provided a refreshing retreat after a day of shopping."
     3. "A cozy and modern hotel with efficient use of space. Yotel Singapore Orchard Road offers a comfortable stay at an affordable price."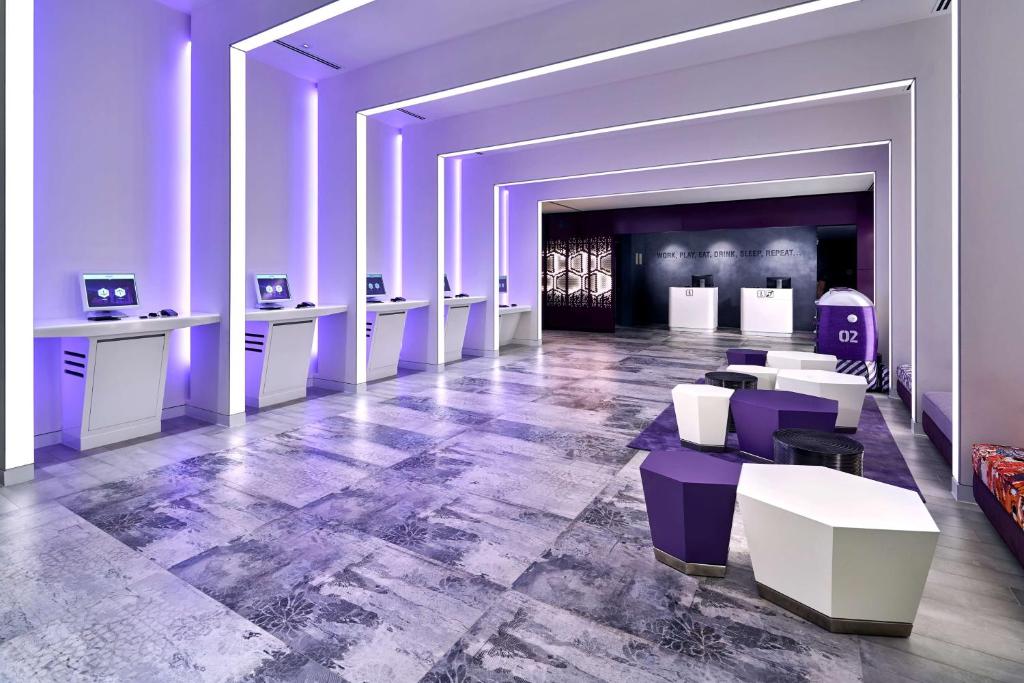 10. Concorde Hotel Singapore
    – Stars: 4 stars
    – Hotel Extras: Rooftop pool,  fitness center, and spacious rooms with city views
    – Distance : Approximately 10 minutes' walk 
– Price Range: S$324 – S$713
– Address: 100 Orchard Road, Orchard, 238840 Singapore, Singapore
    – Tripadvisor Reviews:
      1. "Concorde Hotel Singapore provided a comfortable stay with excellent service. The rooftop pool offered a great view of the city skyline." –
      2. "The hotel's location was convenient for exploring O.R. The spacious rooms and friendly staff made our stay enjoyable." 
      3. "Concorde Hotel was a great choice for its value and amenities. The dining options were fantastic, and the overall experience exceeded our expectations."
11. Four Seasons Hotel Singapore
   – Stars: 5 stars
   – Hotel Extras: Luxurious accommodations, Michelin-starred dining options, tranquil gardens, and a state-of-the-art fitness center, exclusive price tag
   – Distance : Approximately 5 minutes' drive 
– Price Range: S$606 – S$4625
– Address: 190 Orchard Boulevard, Orchard, 248646 Singapore, Singapore
   – Tripadvisor Reviews:
     1. "Four Seasons Hotel Singapore epitomizes luxury and elegance. The impeccable service, beautiful rooms, and delightful dining experiences surpassed our expectations."
     2. "The hotel's attention to detail and commitment to excellence were evident throughout our stay. The lush gardens provided a serene escape in the heart of the city."
     3. "A truly remarkable experience. Four Seasons Hotel Singapore exceeded all expectations with its top-notch service, stunning decor, and culinary delights."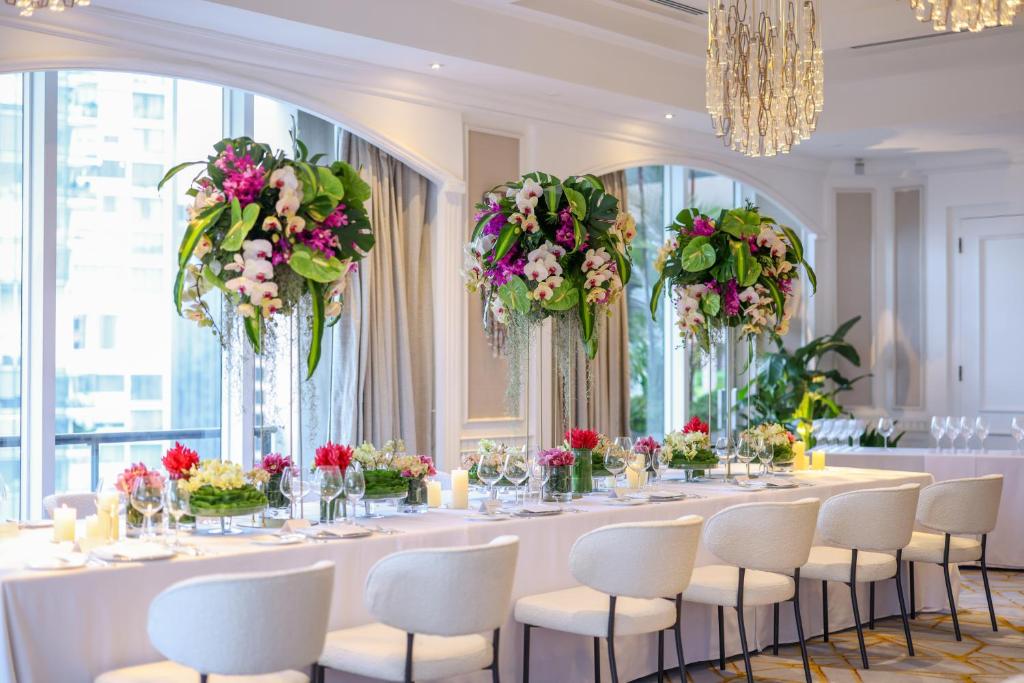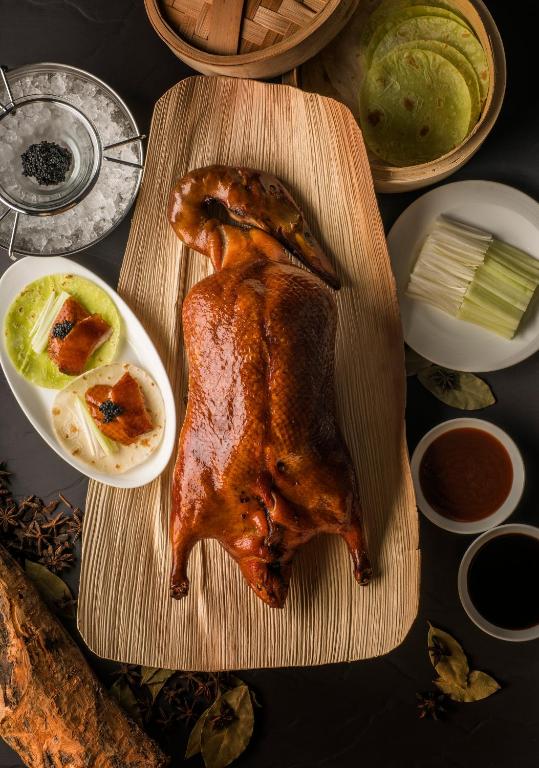 12. Hilton Singapore Orchard
    – Stars: 5 stars
    – Hotel Extras: 10/10 for strategic location, prime location on O.R., renowned dining options, rooftop pool, and spacious rooms with city views, previously The Mandarin Singapore – 36-storey block facing Orchard Road
    – Distance: Located on O.R (0 minutes walk)
– Price Range: S$403 – S$974
– Address: 333 Orchard Road, Orchard, 238867 Singapore, Singapore
    – Tripadvisor Reviews:
      1. "Hilton Singapore Orchard offers an unbeatable location and excellent service. The rooftop pool provided a relaxing escape amidst the city buzz." 
      2. "The hotel's spacious rooms and comfortable amenities made for a delightful stay. The central location allowed us to easily explore O.R's attractions." 
      3. "Hilton Singapore Orchard surpassed our expectations in terms of service,  and overall comfort. A fantastic choice for a luxurious stay in the heart of Singapore."
13. JEN Singapore Tanglin by Shangri-La
    – Stars: 4 Stars
    – Hotel Extras: 2 minutes walk from Orchard Boulevard MRT station, outdoor swimming pool, connected to Tanglin Mall, within walking distance to Botanical Garden
    – Distance: Approximately 15 minutes' walk to ION Orchard
– Price Range: S$238 – S$608
– Address: 1A Cuscaden Road, Orchard, 249716 Singapore, Singapore 
    – Tripadvisor Reviews:
      1. "JEN Singapore Tanglin provides spacious room, perfect for families. The recreational facilities and proximity to shopping malls were a bonus." 
      2. "A hidden gem in Orchard. JEN Singapore Tanglin offers a peaceful retreat amidst the city's hustle and bustle, with convenient access to Botonical Garden."  
      3. "We had a wonderful stay at JEN Singapore Tanglin. The rooms were well-maintained, the staff was attentive, and the location was ideal for exploring O.R. and other nearby attractions" 

14. The St. Regis Singapore
    – Stars: 5 stars
    – Hotel Extras: Timeless luxury, private butler service,  a world-class spa, and lavish interiors
    – Distance: Approximately 5 minutes' drive 
– Price Range: S$557 – S$2553
– Address: 29 Tanglin Road , Orchard, 247911 Singapore, Singapore 
    – Tripadvisor Reviews:
      1. "The St. Regis Singapore is the epitome of luxury. The private butler service, exquisite dining experiences, and elegant interiors created a truly memorable stay." 
      2. "We were blown away by the attention to detail and personalized service at The St. Regis. The luxurious rooms and spa facilities added an extra touch of indulgence." 
      3. "An exceptional hotel that exudes luxury in every aspect. The St. Regis provided an unforgettable experience, leaving us longing to return."
15. Fraser Residence Orchard, Singapore
    – Stars: 5 Stars
    – Serviced Apartments features: Serviced apartments with fully equipped kitchens, rooftop pool, fitness center, and a central location for shopping and dining. With a minimum stay requirement of 6 days, they are ideal for families and longer-term stays.
    – Distance: Approximately 5 minutes' walk to O.R
– Price Range: starts from S$2741 for 6 days
– Address: 31 Paterson Road, Orchard, 238522 Singapore, Singapore
    – Tripadvisor Reviews:
      1. "Fraser Residence Orchard offers spacious and well-appointed serviced apartments. The rooftop pool provided a relaxing escape, and the central location was perfect for exploring Orchard Road." 
      2. "We enjoyed the comfort and convenience of Fraser Residence. The apartments were modern and well-equipped, making us feel at home during our stay." 
      3. "A great choice for a comfortable and homely experience. Fraser Residence Orchard's convenient location and excellent amenities made our stay memorable."