Introduction
Hey there, fellow foodies! Looking for a unique and cultural experience during your visit to Singapore? Well, look no further! We've got just the thing for you – a hands-on cooking class (by Food Playground) that will not only tantalize your taste buds but also give you a deep dive into the vibrant food heritage of Singapore.
Whether you're traveling with family or friends, this cooking class is a fantastic way to bond, have fun, and create some mouthwatering dishes together. Plus, it's an indoor activity with air conditioning, so you can beat the heat while you cook up a storm!
Get Ready to Cook Up a Storm!
Package Details: 3 Hour Cooking Class
Get ready to embark on a culinary adventure like no other! Here's what's included in this exciting cooking class package:
English-speaking guide to assist and guide you throughout the experience.
3-hour hands-on cooking class where you'll learn to cook 3 authentic local favorites: example of favorite local dishes: Laksa, Hainanese Chicken Rice, Satay and etc.
All the necessary ingredients for the class, so you don't have to worry about a thing.
Use of cooking equipment and aprons to make you feel like a true master chef.
Free flow of coffee, tea, and drinking water to keep you hydrated and energized.
Before You Book
It's always good to know a few details before jumping into the fun! Here are some important things to keep in mind: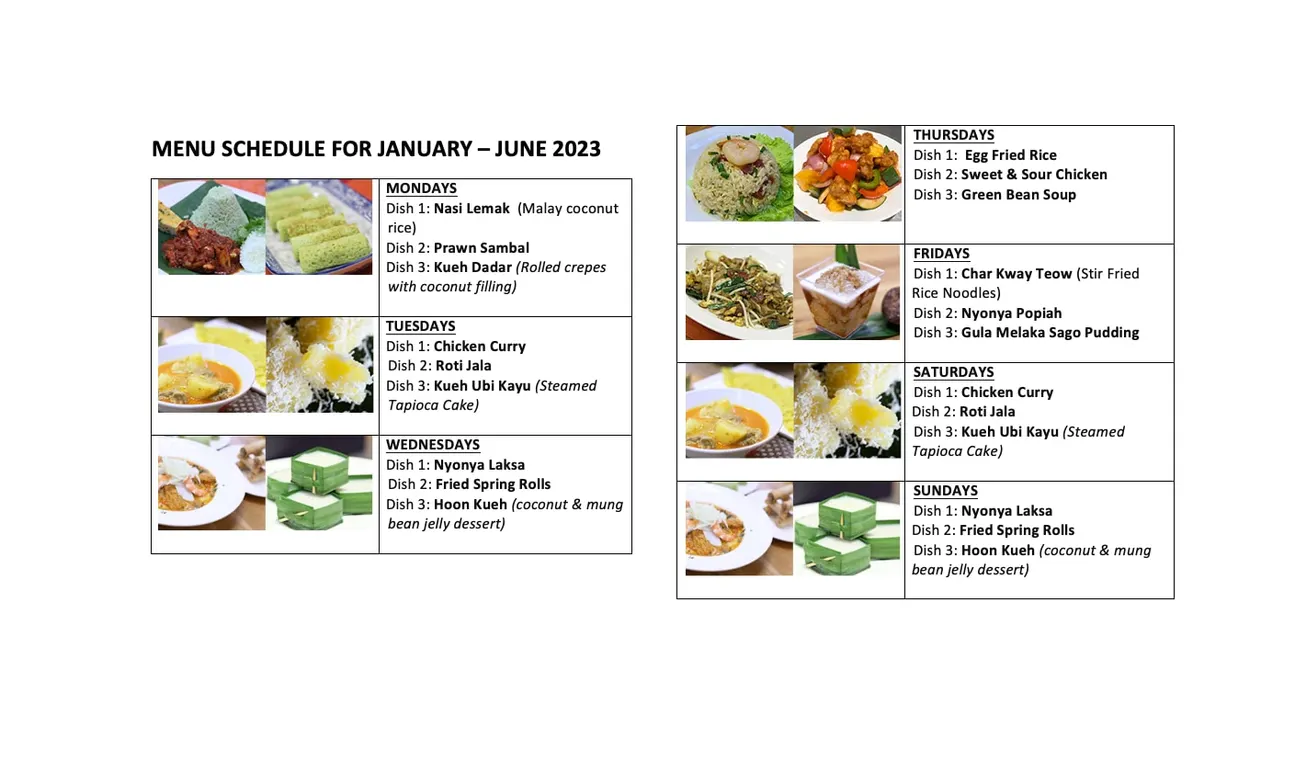 Itinerary: Check out the activity schedule to plan your day. The cooking class takes place from Monday to Sunday.
Activity Schedule: The class starts at 9:30 am, so make sure to arrive at least 10 minutes early to settle in.
Age Requirement: Participants must be aged 7 and above to join in on this delicious adventure.
Booking Limitations: A minimum of 2 participants is required for this class. Don't worry if you're a solo traveler; you can either find a cooking buddy or request a full refund.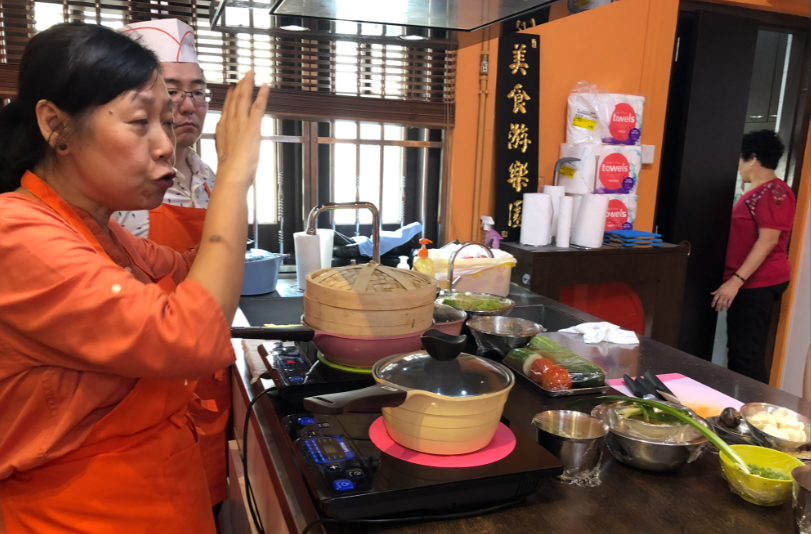 Let's Get Cooking! (by Food Playground)
Location: 24A Sago Street, Singapore 059020
Now that you're all set, let's talk about how to get to this fantastic cooking school. Located in the heart of downtown Singapore, this school is conveniently situated near iconic landmarks like the Buddha Tooth Relic Temple and Chinatown Complex Food Centre. Here's how you can get there:
By MRT: Take the MRT and alight at the Chinatown station (NE4/DT19). From there, it's just a short walk to the cooking school.
By Bus: Hop on any of the following bus numbers: 2, 12, 33, 61, 63, 80, 143, 197, 961, or 970. Get off at the bus stop near Chinatown Point, and you'll be close to the school.
Walking Distance: It's a leisurely 5-minute walk from the MRT station or bus stop to the cooking school.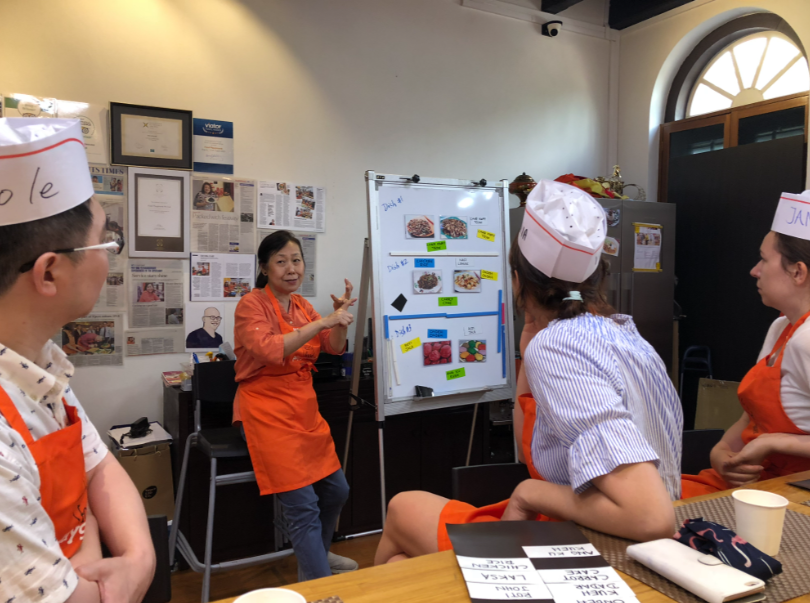 Cooking Class Experience
Get ready to put on your aprons, roll up your sleeves, and unleash your inner chef! Here's what you can expect during your cooking class experience:
Journey # 1: Meet up at the Cooking School
Arrive at the cooking school at 9:30 am, ready to embark on a culinary journey. The friendly instructors will warmly welcome you and make you feel right at home.
Journey # 2: Cook 3 Dishes Under Guidance
Get your taste buds ready for a feast! With the guidance of your skilled instructors, you'll learn to cook three mouthwatering dishes. From the rich flavors of Laksa to the aromatic Hainanese Chicken Rice and the tantalizing Satay, you'll be mastering the art of Singaporean cuisine in no time.
Journey # 3: Dine and Taste Your Own Creations
After all the hard work in the kitchen, it's time to savor the fruits of your labor. Sit down with your fellow classmates and enjoy a communal dining experience. Feast on the dishes you've prepared, relishing in the delicious flavors and the sense of accomplishment that comes with creating an authentic Singaporean meal.
Journey # 4: End of Class
As the class comes to an end at 12:30 pm, bid farewell to your new friends and take home not just memories but also valuable culinary skills that you can showcase to your loved ones back home.
Popular Reviews
But don't just take our word for it! Here are what some previous participants had to say about their cultural cooking class experience:
"11 pax class, most students are expats/tourists. The instructors are friendly and take care of students. Received a surprise framed photo from Food Playground as we were there to celebrate my boyfriend's birthday. Learned to cook 3 dishes, and instructors helped take many nice photos which were uploaded on Google Drive within 3 days. Softcopy recipes were also given."
"Wonderful experience. The chef was nice and patient with the kids. Kids learned a lot about Singapore culture and dishes. The food was delicious, and the class was fun. Happy with it!"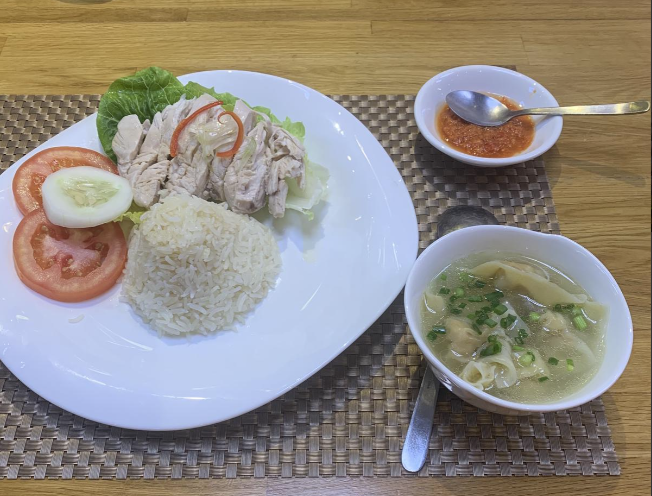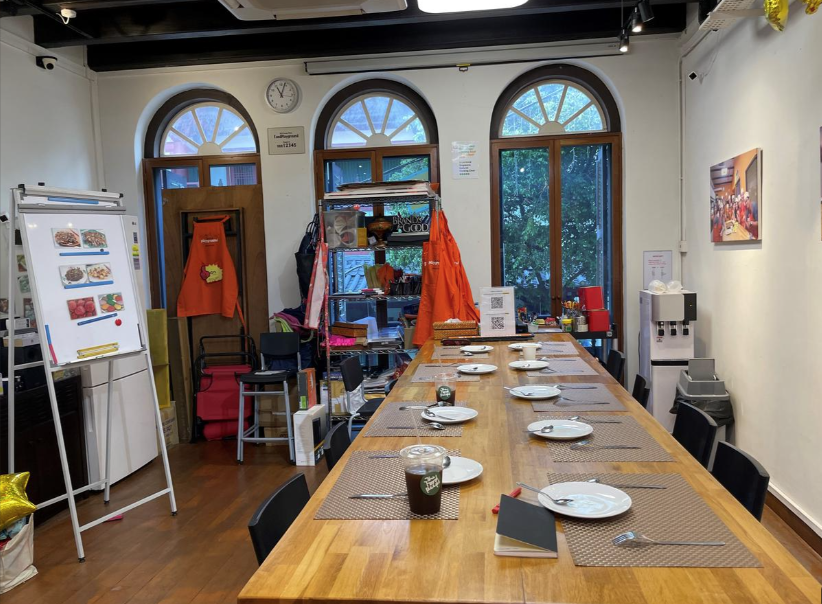 Buy Tickets Now!
Ready to embark on this culinary adventure? Don't miss out on the opportunity to join this amazing cooking class. Here's why you should book your tickets through Klook:
Convenience: Skip the long queues and book your tickets online with just a few clicks. Klook provides a user-friendly platform that makes the booking process a breeze.
Trusted Partner: Klook is a reputable and reliable platform, known for offering a wide range of travel experiences. You can rest assured that your booking is secure and your ticket is guaranteed.
Best Price Guarantee: With Klook, you can enjoy the best price available for this cooking class. Benefit from exclusive deals and discounts to make your experience even more affordable.
Instant Confirmation: As soon as you book your tickets, you'll receive an instant confirmation email with your e-ticket. No more waiting around or wondering if your reservation went through.
Flexible Options: Klook offers flexible options for rescheduling or canceling your booking, giving you peace of mind in case your plans change.
To secure your spot in this fantastic cultural cooking class, simply click the link below to head over to Klook's website and book your tickets now:
3 Hour Cooking Class : Group of 2+ (Per Person)
: S$95.00 per person (Book Now!)
Remember, by booking through our affiliate link, you not only secure your spot but also support us in producing more amazing travel guides for you. It's a win-win situation!
Our Verdict:
Singapore's cultural cooking class offers a unique and immersive experience that allows you to dive deep into the country's rich culinary heritage. From mastering traditional dishes to learning about Singaporean culture, this hands-on cooking class will leave you with unforgettable memories and valuable skills.
So, gather your loved ones, bring your enthusiasm, and get ready to embark on a culinary journey like no other. Book your tickets now through our trusted partner, Klook, and get ready to cook up a storm in the vibrant city of Singapore!
Remember, the best way to truly experience a culture is through its food. Don't miss out on this opportunity to create delicious dishes, forge new friendships, and discover the heart and soul of Singaporean cuisine. Get your aprons on, and let's cook up some incredible flavors together!
About Singaporecity360.com
Singaporecity360.com is your ultimate guide to exploring the wonders of Singapore. From hidden gems to popular attractions, we provide comprehensive information to make your visit memorable. Discover the best places to eat, shop, and have fun in this vibrant city-state. Let us be your trusted companion as you embark on your Singapore adventure!
Remember to bookmark our website and check back regularly for the latest updates and insider tips. Happy exploring!
Disclaimer: Please note that the article contains affiliate links to our trusted partner, Klook. By clicking on these links and making a purchase, we may earn a small commission at no additional cost to you. Rest assured, you, as the customer, do not pay any extra fees or charges for using these links. The commission we receive is solely provided by Klook as a way to support our efforts in providing valuable content and recommendations. We appreciate your support and encourage you to make informed decisions based on your own preferences and needs.