Nestled in the lush greenery of Singapore's Mandai's region lies the award-winning Singapore Zoo, a world-renowned attraction that has captured the hearts of locals and tourists alike since its establishment in 1973. Spanning 26 hectares, the zoo is home to over 300 species of animals from around the globe, including rare and endangered species. With its emphasis on creating natural habitats for its animal residents and its commitment to conservation and education, Singapore Zoo has set the bar for zoos around the world. Its unique and innovative approach to animal welfare and showcasing the wonders of nature has earned it numerous accolades and made it a must-visit destination for nature enthusiasts and animal lovers alike.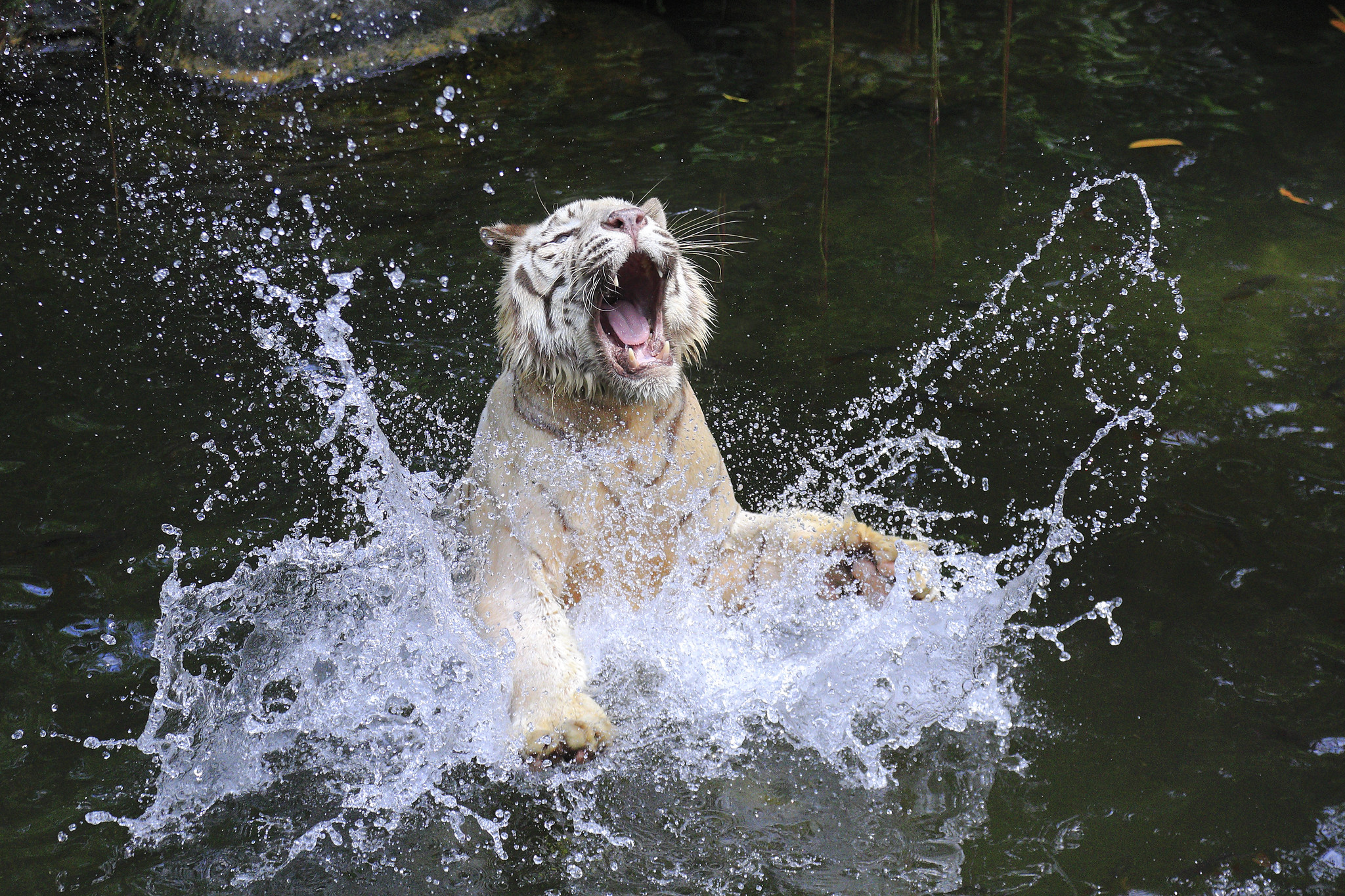 Photo credit: Kenny Teo
The Singapore Zoo has many popular attractions, and the white tiger is certainly one of them. The white tiger exhibit is located in the Wild Africa zone of the zoo and features a pair of majestic white tigers named Pasha and Keysa, they came from Indonesia's Maharani Zoo. Visitors can observe these rare and endangered animals in their naturalistic enclosure, which is designed to mimic their natural habitat in the wild.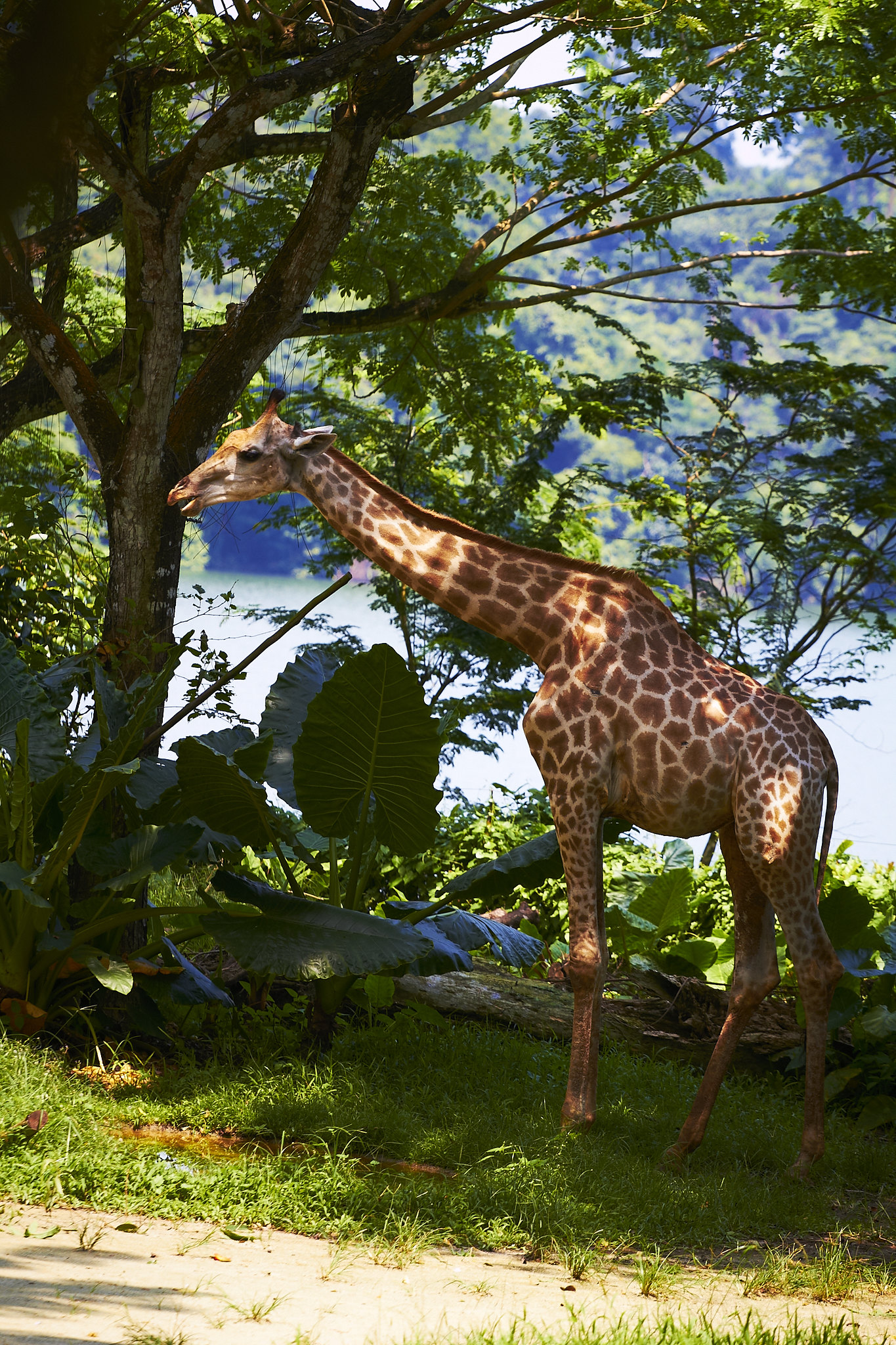 Photo credit: Spiritual Swimmer
As visitors explore the various areas of the zoo, they are transported to different regions of the world, from the African Savannah to the tropical rainforests of Asia. With its impressive collection of animals, including elephants, orangutans and white tigers, the Singapore Zoo offers a rare opportunity to observe these magnificent creatures up close in a naturalistic environment that mimics their natural habitat. The zoo's commitment to animal welfare is evident in its care for its residents as well as its numerous conservation initiatives and breeding programs to protect endangered species. In addition to its impressive wildlife, the Singapore Zoo also offers a wide range of educational programs and activities, making it an ideal destination for families and students.

Photo credit: Barry Zee
The zoo is divided into 11 zones, each representing a different part of the world and showcasing animals from that region.
(1) Australasia

In addition to the exhibit featuring grey kangaroos and agile wallabies from Australia, it also showcases tree kangaroos from Papua New Guinea.


(2) Elephants of Asia

This exhibit spans one hectare and features Burmese-style architecture, providing visitors with a glimpse into the history and culture associated with these magnificent creatures, the largest of all land animals.


(3) Fragile Forest

Enter the 20,000 cubic metre biodome that accurately replicates a tropical rainforest habitat and explore the various strata of the rainforest, coming face-to-face with its furry and feathered inhabitants. Additionally, at Discovery Outpost, visitors can expect close encounters with various invertebrates.


(4) Great Rift Valley of Ethiopia

The rugged rockscape is home to the nimble Nubian ibexes and the dominant Hamadryas baboons. Further exploration of the area reveals meerkats, black-backed jackals, and rock hyraxes. Visitors can also visit the rustic dwelling huts, which recreate the lifestyle of the Konso and Amharic villages.


(5) Primate Kingdom

To provide a suitable living environment for each primate species, individual "islands" have been designated. These islands, surrounded by a moat and landscaped with trees, provide a castle-like home for the furry rulers. In this setting, primates need not be king of the jungle to rule over their own kingdom.


(6) Rainforest KidzWorld

Release your inhibitions and indulge in the various activities available, such as swinging, splashing, sliding, hopping, and jumping! Have a spin on the Wild Animal Carousel, greet the falabellas, and visit the Buddy Barn to interact with some furry friends.


(7) Reptile Garden

On the vast grounds of Reptile Garden, visitors can explore various exhibits such as RepTopia, Tortoise Shell'ter, and Sungei Buaya, among others. By entering the dragon's lair, visitors can learn about the lives and behaviors of these prehistoric creatures that have existed since the age of the dinosaurs.


(8) RepTopia

RepTopia is home to more than 60 species of reptiles and amphibians, with a third of them never before seen in the area. This exhibit takes visitors on a tour of four distinct geographical zones, featuring multi-species displays, keeper demonstrations, interactive stations, and play elements, making it a thrilling and engaging experience for all.


(9) Tortoise Shell-ter

Tortoise Shell-ter serves as a naturalistic sanctuary providing the ideal conditions for our chelonian collection to breed and exhibit their natural behavior. Visitors can learn about our "shell-ebrities," which include some of the world's rarest tortoises, and the ongoing conservation efforts to increase their populations.


(10) Treetops Trail

Treetops Trail replicates a rainforest habitat, featuring animals residing in various layers of the forest.


(11) Wild Africa

The continent of Africa boasts a diverse array of habitats, ranging from lush tropical rainforests to arid deserts. The animals inhabiting these areas have adapted in remarkable ways, resulting in some of the world's most unique species. Among these endemic creatures are the tallest, fastest, and largest land animals found anywhere on the planet.

The unique 11 zones of the Singapore Zoo offer visitors a diverse range of animals and experiences, providing an immersive and educational wildlife experience.
Animal Feeding Experiences:
The Singapore Zoo offers a variety of animal feeding experiences that allow visitors to get up close and personal with the animals while learning about their diets and behavior. Some of the feeding experiences available include:
Elephant Feeding at Elephants of Asia
VENUE: ELEPHANTS OF ASIA, SINGAPORE ZOO
3 TIME Slots: 9:30AM, 11:45AM & 4:30PM
Food Portion : $8.00
Purchase the add-on ticket here.
Zebra Feeding at Wild Africa
VENUE: WILD AFRICA, SINGAPORE ZOO​
2 TIME Slots: 10:15AM, 2:15PM​
Food Portion : $8.00
Purchase the add-on ticket here
White Rhino Feeding at Wild Africa
VENUE: WILD AFRICA, SINGAPORE ZOO
TIME: 1:15PM
Food Portion : $8.00
Purchase the add-on ticket here
Giraffe Feeding at Wild Africa
VENUE: WILD AFRICA, SINGAPORE ZOO
3 TIME Slots: 10:45AM, 1:50PM, 3:45PM
Food Portion : $8.00
Purchase the add-on ticket here
Goat Feeding at Rainforest KidzWorld
VENUE: RAINFOREST KIDZWORLD, SINGAPORE ZOO
2 TIME Slots: 11:30AM & 3:30PM
Food Portion : $8.00
Purchase the add-on ticket here
Giant Tortoise Feeding at Reptile Garden
VENUE: REPTILE GARDEN, SINGAPORE ZOO
TIME: 1:15PM
Food Portion : $8.00
Purchase the add-on ticket here
Local insight tips:
Visit Rainforest KidzWorld (free admission). Rainforest KidzWorld offers a water playground for kids of all ages! The floor is covered with foam mats, you hardly have a chance to stay dry when you step into the water areas! There are just too many "traps" – sprinklers, sprayers and splashing buckets.
Tickets for non-residents
Adult: S$48.00
Child (Ages 3 to 12): $33
How to get to the Singapore Zoo:
Take the MRT to Ang Mo Kio station (NS16). Exit the MRT station and cross the street to the bus station. Take Bus 138 to Singapore Zoo.
Take bus 927 from Choa Chu Kang (NS4) [North South Line) MRT station.
80 Mandai Lake Rd, Singapore 729826, Singapore
Mon – Fri : 0830-1800
Sat – Sun : 0830-1800
https://www.mandai.com/en/singapore-zoo.html
https://twitter.com/tweetWRS