Welcome to Singapore, a vibrant and dynamic city-state known as one of the best shopping destinations in the world. From high-end luxury brands to local boutiques and street markets, Singapore offers a diverse range of shopping experiences to suit every budget and style.
Whether you're a seasoned shopper or a first-time visitor, this ultimate Singapore shopping guide will help you navigate the city's vibrant retail scene. With a wealth of insider tips and recommendations, you can discover the best places to shop, dine, and relax in Singapore.
Singapore's shopping scene is known for its world-class malls, bustling street markets and trendy boutiques. Iconic shopping destinations such as Orchard Road, Marina Bay Sands and VivoCity offer a mix of high-end luxury brands, designer labels and international fashion houses. There are also numerous local boutiques and independent stores offering unique and one-of-a-kind pieces.
Whether you're looking for the latest fashion trends, cutting-edge electronics, traditional handicrafts or exotic spices, you'll find it all in Singapore. The excellent MRT network makes it easy to get around and explore the city's many shopping districts with your ezLink card or SimplyGo Apps.
So if you're ready to shop till you drop and experience the best Singapore has to offer, let this shopping in Singapore guide be your first stop for everything retail in the Lion City has to offer!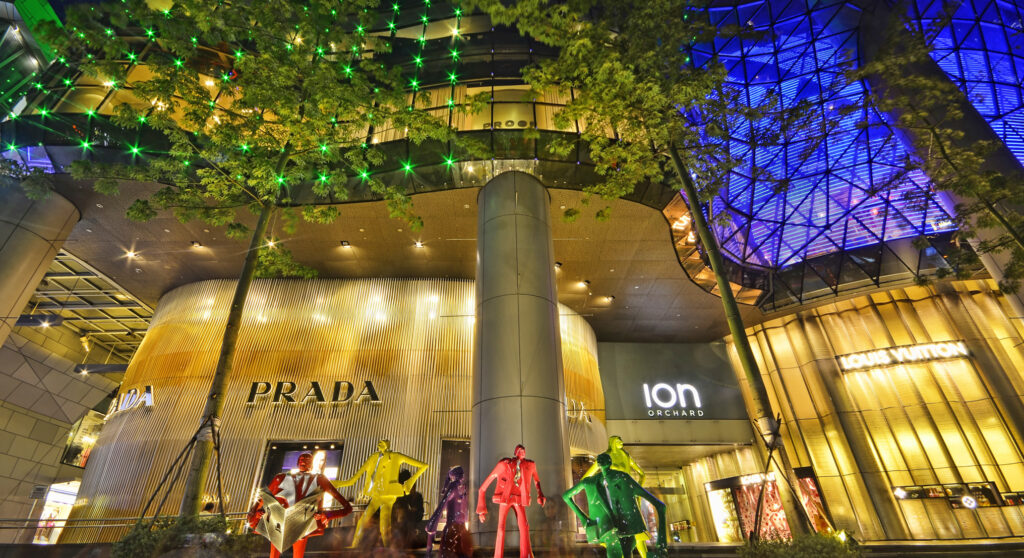 Orchard Road – Shopping Guide
Welcome to Orchard Road, Singapore's premier shopping destination. With over 22 shopping malls and countless boutiques, this vibrant retail paradise has something for everyone.
Tips to shop at Orchard Road:
Discover Iconic Department Stores
Orchard Road is home to several iconic department stores. Here are among the top 5 department stores:
1) Tang Plaza
2) Isetan @ Scotts
3) Takashimaya Department Store
4) Metro Department Store @ The CentrePoint
5) Metro Paragon
These stores offer a wide range of products from high-end fashion brands to local souvenirs. Each department store has a unique shopping experience that is worth exploring.
Explore Luxury Fashion Boutiques:
For those who love luxury shopping, Orchard Road is the perfect destination. The road is lined with high-end fashion boutiques such as Gucci, Prada, Louis Vuitton, and Chanel. These boutiques offer the latest fashion trends and exclusive collections.
Hunt for Local Souvenirs:
If you're looking for local souvenirs, head to the Far East Plaza or Lucky Plaza. These malls have several shops that sell traditional items such as handicrafts, textiles, and local snacks. You can also find affordable fashion and beauty products in these malls.
Experience Night Shopping:
Orchard Road comes alive at night with its colorful lights and lively atmosphere. The malls are open until late, and you can enjoy night shopping at places like The Centrepoint or 313@Somerset.
Image credit to Samsul Adam
Orchard Road – Dining
With a plethora of restaurants, cafes, and bars, Orchard Road is a food lover's paradise. From fine dining to street food, there's something for everyone in this bustling food scene.
Here is our guide to dining on Orchard Road:
Fine Dining:
Orchard Road boasts several fine-dining restaurants, offering a range of cuisines from around the world. From French and Italian to Japanese and Chinese, you'll find a diverse range of high-end restaurants that cater to discerning foodies. Some of the most popular fine-dining options on Orchard Road include JAAN by Kirk Westaway, Alma by Juan Amador, and Iggy's. Head to our Michelin's guide for more information.
Casual Dining:
If you're looking for a more casual dining experience, there are plenty of options available on Orchard Road. From trendy cafes to local food stalls, you'll find a range of casual dining options that cater to every palate and budget. Some popular casual dining spots on Orchard Road include PS. Cafe (Paragon), Wild Honey (Level 3, Scotts Square), and Crossroad Cafe (Singapore Marriott Tang Plaza).
Street Food:
For a truly authentic Singaporean dining experience, head to the street food stalls on Orchard Road. Here, you'll find a wide range of local dishes, including satay, laksa, and hawker-style noodles. Some of the most popular street food stalls on Orchard Road include Food Republic @ 313@Somerset, Food Opera @ ION Orchard and Food Republic @ Wisma Atria.
Bars and Nightlife:
After a long day of shopping and dining, unwind with a cocktail or beer at one of the many bars and clubs on Orchard Road. From rooftop bars with stunning city views to live music venues and nightclubs, there's plenty of nightlife options to choose from. Some popular bars and clubs on Orchard Road include Acid Bar & Restaurant, JiBiru Yakitori & Craft Beer (313@Somerset) and No.5 Emerald Hill (Emerald Hill Road)
Marina Bay Sands – Shopping Guide
Marina Bay Sands is one of the top Singapore's iconic luxury shopping destination. Home to over 800 brands, Marina Bay Sands is a shopper's paradise that offers a unique blend of high-end luxury and cutting-edge tech gadget.
Here is our shopping guide to Marina Bay Sands:
Luxury Brands:
MBS boasts an impressive selection of high-end brands that cater to the most discerning shoppers. These luxury brands offer more than just high-quality products; they provide a shopping experience like no other.
Each brand has its own unique story, heritage, and style, and their stores at Marina Bay Sands reflect this. The stores are designed to transport shoppers into a world of luxury and elegance, with exquisite interiors and exceptional customer service.
At MBS, you can explore the latest collections from some of the world's most renowned luxury brands, including Gucci, Prada, Dior, and Bottega Veneta. You can also indulge in bespoke services and personalized shopping experiences, tailored to your individual needs and preferences.
The luxury brands at Marina Bay Sands offer much more than just clothing and accessories. Many also offer exclusive services and experiences, such as private shopping, personal styling, and made-to-measure services. These services ensure that every shopper receives a truly unique and unforgettable experience.
Cutting-Edge Tech Gadget:
The Apple Store at Marina Bay Sands is a one-of-a-kind shopping destination that has captured the attention of visitors from all over the world. This stunning store, located on the water's edge, is shaped like a giant floating sphere and offers a truly unique shopping experience.
As you enter the store, you'll be greeted by a stunning view of the Singapore skyline and the crystal-clear waters of Marina Bay. The interior of the store is just as impressive, with a sleek and modern design that showcases Apple's latest products.
The store offers a full range of Apple products, including the latest iPhones, iPads, and MacBooks. You can also try out the latest Apple Watch and experience the many features of Apple's ecosystem. The store also offers a range of accessories, including cases, chargers, and headphones.
But the Apple Store at Marina Bay Sands is more than just a place to shop. It's also a hub of creativity and innovation, with a team of experts on hand to help you with all your tech needs. Whether you're a seasoned Apple user or a new convert, the team at the Apple Store can help you find the perfect product to suit your needs.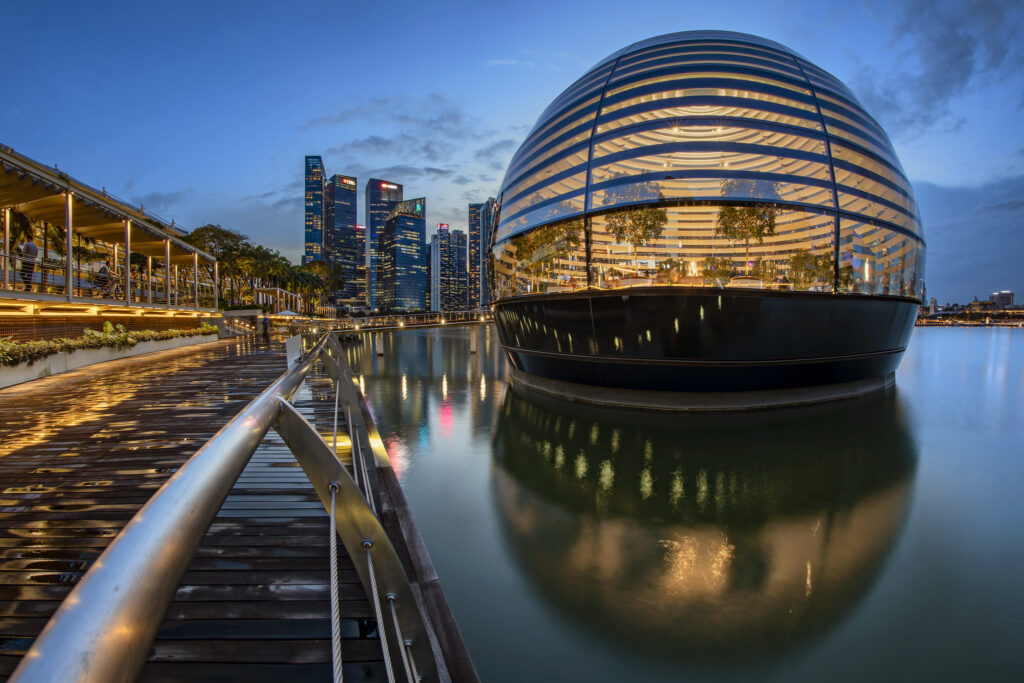 Jewellery and Accessories:
MBS is home to an impressive range of jewelry and accessory stores, offering an unparalleled selection of high-quality, luxury items. From diamond-encrusted watches to stunning pieces of statement jewelry, MBS is the perfect destination for those who appreciate the finer things in life.
Some of the world's most renowned jewelry and accessory brands can be found at Marina Bay Sands, including Tiffany & Co., Cartier, Bulgari, and Van Cleef & Arpels. Each store has its own unique collection, featuring a range of designs and styles to suit all tastes.
In addition to the big names, Marina Bay Sands also features a range of independent and boutique jewelry and accessory stores, offering one-of-a-kind pieces that you won't find anywhere else. These stores offer a more personalized shopping experience, allowing customers to create bespoke pieces that reflect their individual style and personality.
At MBS, you can browse through exquisite collections of watches, necklaces, bracelets, earrings, and other accessories, all crafted from the finest materials and designed with exceptional attention to detail. Whether you're looking for a special gift or a unique piece to add to your own collection, you'll find it at MBS.
Beauty and Wellness:
MBS is not just a destination for luxury shopping and entertainment, but also a place where you can indulge in some of the finest beauty and wellness experiences in Singapore. Whether you want to relax and rejuvenate, or simply treat yourself to some pampering, MBS has it all.
From luxurious spas and salons to boutique skincare stores, MBS offers a range of beauty and wellness experiences that cater to every need. Here are some of the top experiences you can enjoy at Marina Bay Sands:
Spa treatments:
The spas at Marina Bay Sands offer a range of treatments, from traditional massages to luxurious facials, that use the latest in skincare technology and products. Some of the top spas include Banyan Tree Spa (Tower1, Level 55, MBS), Lacquer & Spa (The Shoppes at Marina Bay Sands), and Natureland (The Shoppes at Marina Bay Sands).
Beauty services:
If you're looking for a quick beauty fix, there are plenty of salons at MBS that offer everything from haircuts and blowouts to manicures and pedicures. Some of the top salons include Myeongdong Hair Studio (Marina Bay Link Mall), SALON 360 DEGREE (B1, Galleria Level), and The Buff'd Nail Spa (B1, Galleria Level).
Skincare stores:
MBS is also home to a range of high-end skincare stores, offering products from some of the world's top brands. Whether you're looking for a new moisturizer or a complete skincare regimen, you'll find it at stores like La Mer, SK-II, and Sulwhasoo.
Marina Bay Sands – Dining and Entertainment
When it comes to dining at Marina Bay Sands, the options are endless. From celebrity chef restaurants to casual dining options, there's something for everyone. One of the most popular restaurants at Marina Bay Sands is Waku Ghin, which is headed by celebrity chef Tetsuya Wakuda. The restaurant offers a multi-course degustation menu that's expertly crafted to showcase the freshest ingredients from around the world.
Another popular dining destination is CUT by Wolfgang Puck, which offers an extensive selection of premium steaks, seafood, and salads. For those seeking a more casual dining experience, Bread Street Kitchen by Gordon Ramsay is a British-inspired restaurant that offers classic dishes with a modern twist.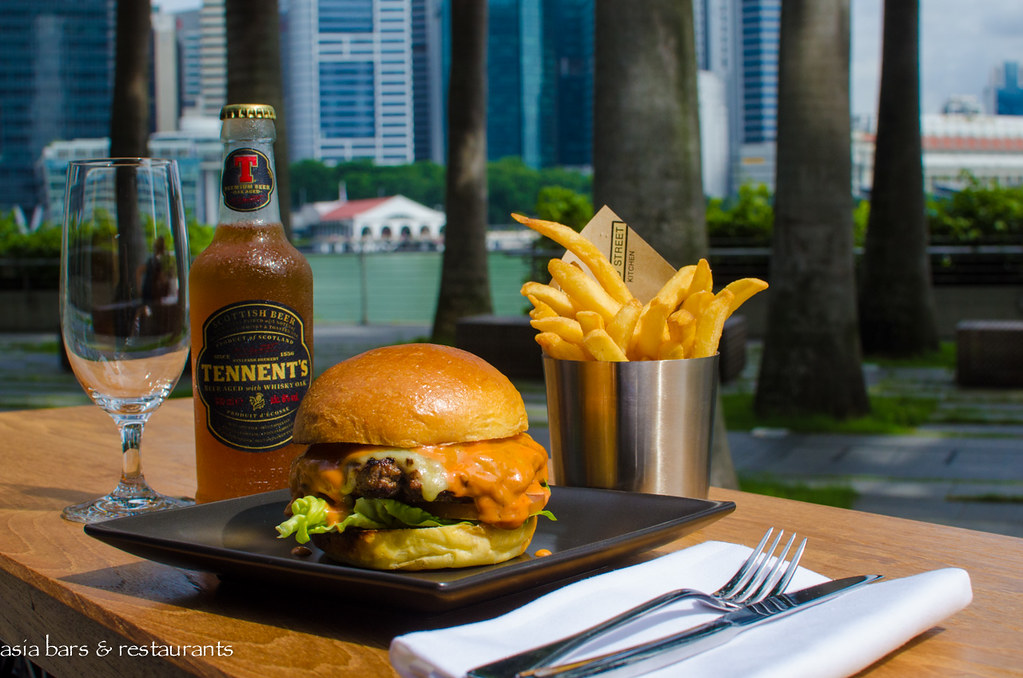 Entertainment
Marina Bay Sands is also home to some of the best entertainment options in Singapore. The Marina Bay Sands Skypark is a must-visit destination for those seeking breathtaking views of the city skyline. The Skypark features an infinity pool, observation deck, and a variety of bars and restaurants. Buy your Skypark observation deck ticket here.
For those who prefer a more cultural experience, the Sands Theatre is a state-of-the-art venue that hosts a variety of concerts, musicals, and theatrical performances. The theatre has welcomed some of the biggest names in entertainment, including Lady Gaga and Michael Bublé.
If you're looking for a night out on the town, the Marina Bay Sands Casino is the perfect destination. The casino features over 2,300 slot machines and 500 table games, making it one of the largest casinos in the world.
Marina Bay Sands – Beyond Shopping
While Marina Bay Sands is known for its world-class shopping, there are plenty of other activities to do and sights to see beyond the shops. Here are some of the top things to do at Marina Bay Sands:
Visit the ArtScience Museum – The ArtScience Museum is a fascinating museum that combines art, science, and technology to showcase some of the most innovative and creative exhibits in the world. The museum has hosted exhibitions on a variety of topics, from Van Gogh to Harry Potter.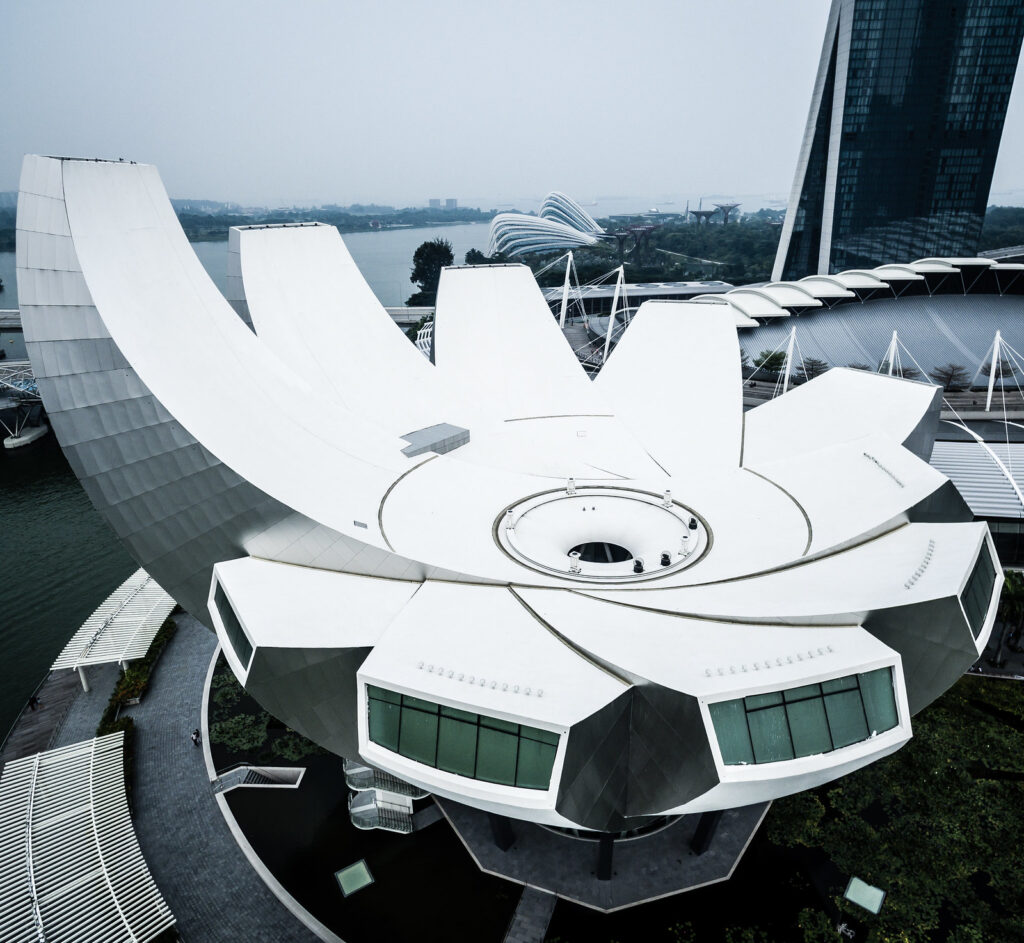 Walk across the Helix Bridge
The Helix Bridge is a stunning architectural marvel that spans across Marina Bay in Singapore. Designed by the Australian architectural firm, Cox Architecture, this pedestrian bridge is a must-see attraction for visitors to the city.
The Helix Bridge is unique in its design, with its intricate helix-shaped structure made up of steel tubes that are both functional and visually striking. The bridge features four viewing platforms that offer breathtaking views of the Marina Bay skyline and the surrounding area. The platforms are perfect for taking photos, admiring the scenery, or simply relaxing and enjoying the view.
One of the most remarkable features of the Helix Bridge is its lighting system. The bridge is illuminated by an LED lighting system that can be programmed to change colors and patterns. At night, the bridge is transformed into a dazzling display of colors and light that can be seen from miles away.
Aside from its aesthetic appeal, the Helix Bridge is also functional in its design. The bridge is designed to withstand high winds and strong currents, making it a safe and sturdy structure for pedestrians to cross.
The Helix Bridge is not only a marvel of modern architecture but also an important connection for locals and visitors alike. It connects Marina Bay Sands to the nearby Marina Centre and offers a convenient and enjoyable way to get around the area on foot.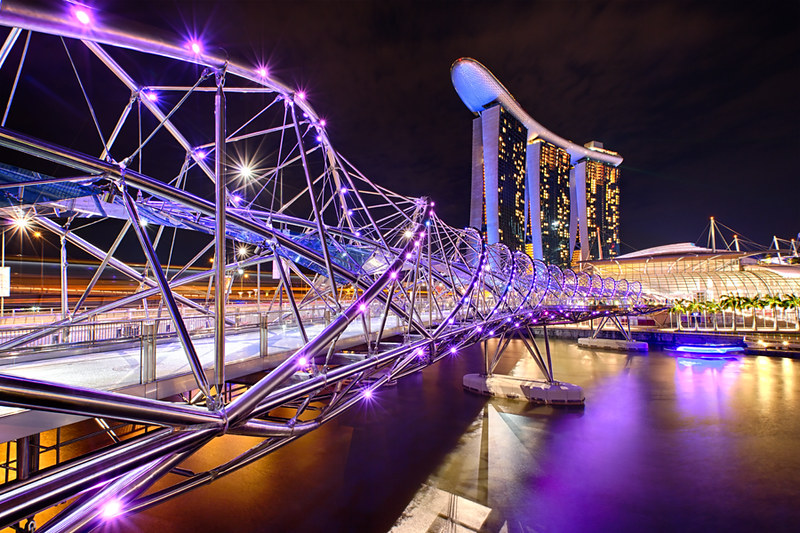 Take a stroll along the waterfront promenade – The waterfront promenade at Marina Bay Sands offers stunning views of the city skyline and is a great place to take a leisurely stroll. There are plenty of benches and seating areas along the way, as well as restaurants and cafes where you can stop for a snack or drink.