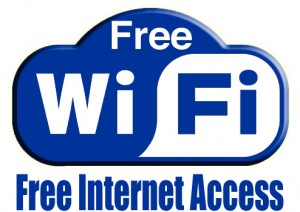 Wireless Internet Surf – WiFi (for Visitors)
Step1:   Select Singtel as your service provider on your mobile
Step 2:  simply press 
186
(dial *186)
Step 3:  Received SMS with Free user ID and Password.
To enjoy FREE WiFi surfing (up to 1Mbps) at [email protected] hotspots islandwide, dial *186 to receive your FREE userID/password.
Dial *624 to locate hotspots
FREE Promotion till 31 December 2012.
For setup instructions, go to Using WiFi/ Wireless
Background:
The government's free Wi-Fi service (home.singtel.com/wirelessSG/) was launched in 2006 and is available in high-traffic areas all over the island – think shopping malls, cafés, restaurants, public libraries, commercial buildings – and wherever you're most likely to be updating your Facebook and Twitter accounts. To date, there are more than 800 hotspots. If you happen to be in the range of one, a registration prompt would pop up and a password would be sent to you via SMS.
Users without a local number simply have to choose SingTel as a service provider and dial *186.
Alternatively, drop by any information counter at Changi Airport, where you'll be given a temporary account.
About [email protected]
[email protected] is a free wireless broadband programme developed by IDA, Singapore as part of its Next Generation National Infocomm Infrastructure initiative. Visitors can enjoy free wireless broadband access with top speeds of up to 1 Mbps at certain public areas in Singapore.
In Feb 2010, a few enhancements to the [email protected] network were launched. Seamless and Secure Access (SSA) was introduced to allow visitors to more easily engage to [email protected] services. SSA is especially beneficial for visitors who access [email protected] using mobile handheld devices such as iPhone, iPad and Android Devices, and it enhances the usage applications such as e-mail and VoIP over the [email protected] network.
The [email protected] Connect application was launched to allow users to easily access and enjoy a variety of [email protected] applications and services. With [email protected] Connect, users can receive relevant information, find nearest hotspots and receive the latest [email protected] updates. You could search the App from Apple's Store or Android's Market Place.
The operators are also providing location information from [email protected] through a Centralized Location-based Engine (CLBE) to enable developers to create new, location-sensing mobile applications.
[email protected] is powered by the network of 3 wireless operators in Singapore: iCELL, M1 and SingTel. It will be provided free till 31 March 2013.
Free WiFi : Sign-Up Now (visitors to Singapore can sign-up for a Free Account)
To start enjoying free access to [email protected], sign up with any of the 3 [email protected] operators online or via the operators' Customer Service Centres.
All residents and visitors to Singapore can sign up for a free account.
Online Account Application
Visitors with access to the Internet can log onto any of the three operators' websites and complete an online registration form. Alternatively, they can click on the 'New User Sign Up' link found on the [email protected] log-in page when they select the [email protected] network at the coverage areas. The account will be activated immediately and a password sent to them via SMS.