Resort World Sentosa
Resort World Sentosa
List of Features and Travel Tips for Resort World Sentosa
Resort World Sentosa (RWS) is a popular tourist destination in Singapore
RWS is known for its world-class entertainment, attractions, and luxurious accommodations
This integrated resort is located on the island of Sentosa, just a short distance from the mainland
Visitors can enjoy a wide range of restaurants, thrilling attractions, and other interesting activities at RWS
Travel Tips for Getting to Resort World Sentosa
Visitors can take the Sentosa Express from VivoCity or drive onto the island
At VivoCity, Lobby L, Level 3, visitors can purchase the ticket for a one-time admission to Sentosa Island via the Sentosa Monorail Express
The Sentosa Monorail Express operates during the following hours: 7 AM to 10 PM on Mondays through Thursdays, and 7 AM to 12 MN on Fridays through Sundays
There are four different stations on the Sentosa Monorail Express: Sentosa Station at VivoCity Shopping Mall, Waterfront Station at Resorts World Sentosa and Universal Studios Singapore™, Imbiah Station, and Beach Station
Visitors may choose to disembark at any of these stations depending on their intended destination and activities
Sentosa monorail – Sentosa Express
Resort World Sentosa provides round-the-clock entertainment options, with a vast range of attractions and activities for visitors to indulge in. The resort boasts some of the most impressive theme parks in Singapore, such as Universal Studios Singapore, Adventure Cove Waterpark, and S.E.A. Aquarium, each offering a diverse selection of rides and attractions. From exciting roller coasters to thrilling water slides and interactive exhibits, guests are sure to find an experience to suit their taste.
Universal Studios Singapore
S.E.A Aquarium
Adventure Cove Park
Tickets and Prices for Attractions at Resort World Sentosa
Tickets for the attractions at Resort World Sentosa can be purchased online or at the ticketing counter
The prices vary depending on the attraction and the age of the visitor
For example, a one-day ticket to Universal Studios Singapore costs S$82 for adults and S$61 for children
A one-day ticket to Adventure Cove Waterpark costs S$39 for adults and S$31 for children
Visitors can also purchase multi-day passes or packages that include multiple attractions
Other Activities at Resort World Sentosa
Aside from the theme parks, Resort World Sentosa offers other interesting activities for visitors to enjoy
Guests can catch a show at the Resorts World Theatre or the Festive Grand Theatre
The casino is another popular attraction, but has a strict dress code policy
Guests must observe the smart dress code upon entering the casino
This means that guests wearing singlets, shorts, slippers, hats, caps, helmets, sunglasses, masks, veils, or any other items which conceal their facial features (fully or partially) are prohibited from entering the casino
So, if you plan on visiting the casino, be sure to dress appropriately
Casino at Resort World Sentosa.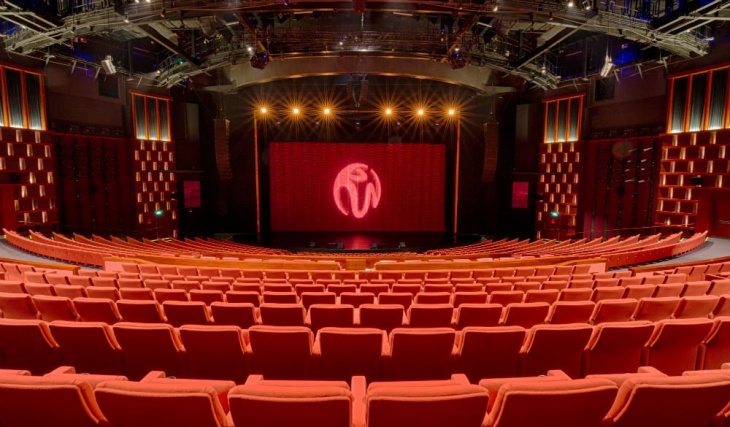 Resort World Sentosa theatre
Shopping around Resort World Sentosa
VivoCity: A Premier Shopping Destination in Singapore
VivoCity is a shopping complex situated on the mainland side of Sentosa Island, Singapore
Boasting a remarkable array of shops, restaurants, and entertainment options, VivoCity is recognized as one of the largest shopping malls in Singapore
Access to VivoCity is made effortless via Sentosa Broadwalk, with the mall conveniently located just a short distance from Resort World Sentosa
The Sentosa Boardwalk: A Scenic Route to VivoCity
The Sentosa Boardwalk is a pedestrian walkway that connects Sentosa Island to the mainland of Singapore
The boardwalk spans a distance of approximately 700 meters and offers stunning views of the harbor and city skyline
It features a covered walkway and several viewing platforms where visitors can stop to take in the scenery
Walking from Sentosa Island to VivoCity via the Sentosa Boardwalk takes approximately 15 to 20 minutes, depending on walking speed
This scenic route is a popular alternative to taking the monorail or cable car and provides a unique experience of crossing between the island and mainland on foot
(Visit the YouTube video to find out more about the Sentosa Boardwalk: https://www.youtube.com/watch?v=EDqxSsmHPuA)
Entertainment and Attractions Inside VivoCity
Inside the mall, visitors are treated to a diverse range of experiences, from catching a movie at the cinema to enjoying the rooftop amphitheater or children's playground
With its modern architecture and picturesque waterfront views, VivoCity attracts both local and international visitors as a highly sought-after destination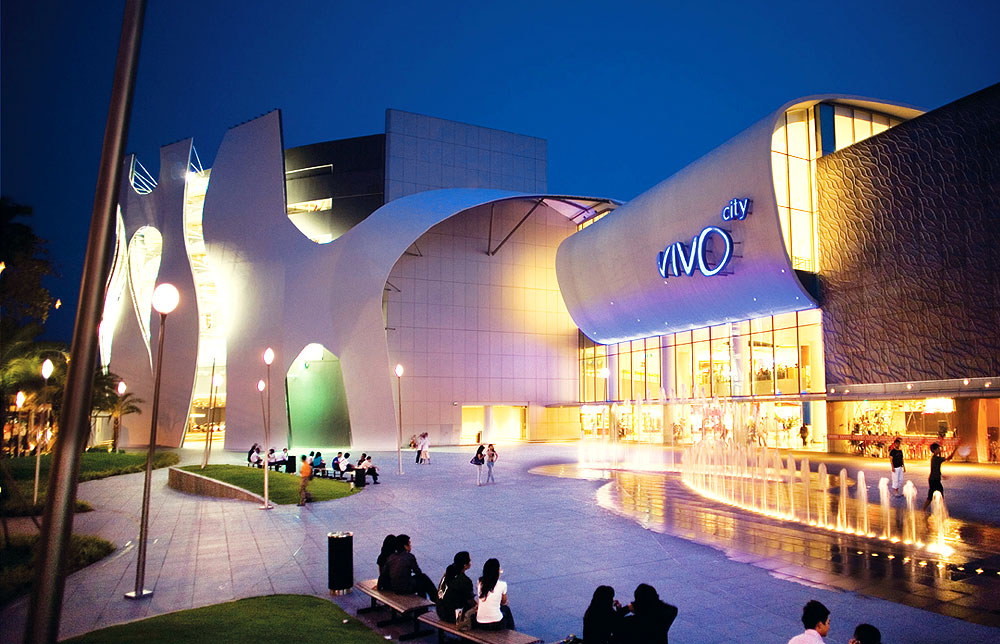 VivoCity Shopping Mall is the closest retail destination to Sentosa Island.
Resort World Sentosa boasts a plethora of exceptional dining options for its guests, with over 50 restaurants serving an array of cuisines and offering diverse dining experiences. Whether one seeks a casual cafe or a luxurious fine-dining establishment, the resort caters to all tastes and preferences, providing a memorable culinary journey for every visitor.
Some of the most popular affordable restaurants at the resort include Malaysian Food Street, an air-conditioned hawker center that serves up authentic traditional Malaysian dishes; and Toast Box, a local cafe that serves up traditional Singaporean breakfast items like kaya toast, Nanyang's style coffee and soft-boiled eggs.
Malaysian Food Street @ Sentosa
Consider Purchasing Attraction Tickets via Klook
Buying attraction tickets through Klook instead of directly from Universal Studios Singapore can offer several benefits. Firstly, Klook often offers discounted rates on tickets, providing a cost-effective option for visitors. Additionally, purchasing tickets through Klook allows visitors to skip the long queues at the park entrance, saving valuable time and ensuring a hassle-free experience. Klook also provides a user-friendly online booking platform, with the ability to make changes or cancellations to tickets if plans change. Lastly, Klook offers a range of bundled packages, including tickets to multiple attractions, (Klook Pass Singapore starts from SGD77) providing visitors with a convenient way to plan and book their itinerary in advance.
Our Verdict
Resort World Sentosa is a fantastic destination for tourists looking for fine-dining restaurants, thrilling attractions, and interesting activities. The resort is easily accessible by the Sentosa Express, by foot (via Sentosa Boardwalk) or by taxi or private hire car. The operating hours for Universal Studios Singapore is from 11AM to 6PM daily. Tickets for the attractions at the resort can be purchased online or at the ticketing counter or purchase via Klook (https://www.klook.com/en-SG/). The resort is also home to over 50 restaurants, offering a wide range of cuisines and dining experiences. Whether you're looking for adventure or relaxation, Resort World Sentosa has something for everyone.
Disclaimer: Our website is an affiliate partner of Klook, a leading online platform for booking travel experiences and activities. As an affiliate, we may earn a commission from bookings made through links on our website. However, our affiliation with Klook does not affect the price of the tickets or the user experience for our visitors. We only recommend products and services that we believe offer value to our audience, and our partnership with Klook is intended to provide our visitors with access to a trusted and reliable platform for booking travel experiences.
Address
8 Sentosa Gateway, Singapore 098269, Singapore
Entrance Fee
Universal Studios Singapore One-Day Admission Ticket : S$82
S.E.A. Aquarium One-Day Admission Ticket : S$41
Adventure Cove Waterpark One-Day Admission Ticket : S$39
Things To Do
Couples:

Take a romantic stroll through the Sentosa Boardwalk
Have a relaxing day at the ESPA at Resorts World Sentosa and indulge in a couple's spa treatment.
Enjoy a romantic dinner at one of the many fine dining restaurants in the resort.
Catch the Wings of Time show, a spectacular display of lights, water, and fireworks.

Family:

Visit Universal Studios Singapore and experience the thrilling rides and attractions.
Explore the Marine Life Park and have a fun-filled day at Adventure Cove Waterpark.
Go on a nature walk at the Sentosa Nature Discovery and learn about the local flora and fauna.
Have a fun and interactive experience at the Trick Eye Museum.

Family travel with young children:

Visit the Universal Studios Singapore's Sesame Street Spaghetti Space Chase ride and interact with the Sesame Street characters.
Take a ride on the Treasure Hunters, a family-friendly car ride through an ancient Egyptian excavation site.
Make your way to Dolphin Island for an exceptional encounter with these intelligent marine mammals.

Adult family group:

Play your favorite games at the casino, featuring over 500 table games and slot machines.
Enjoy a delicious meal at one of the many restaurants in the casino, including Michelin-starred restaurants.
Catch a live performance or concert at the Resorts World Theatre.
Have a drink at the Crockfords Tower Lounge and enjoy the luxurious surroundings.
Play golf at the Sentosa Golf Club, one of Asia's top golf courses, and relax at the clubhouse after your game.
Visit the Spa at Resorts World Sentosa for a relaxing massage or spa treatment.
Travel Tips
Consider purchasing a package deal: If you plan on visiting multiple attractions in Resort World Sentosa, consider purchasing a package deal that includes admission to all the attractions you want to see. This can help you save money and time.
Bring comfortable clothing and shoes: As you'll be walking around the Sentosa island, make sure to wear comfortable clothing and shoes that will keep you comfortable throughout the day.
Stay hydrated: Singapore is hot and humid, so make sure to bring a water bottle and stay hydrated throughout the day.
Bring sunscreen and insect repellent: Since you'll be spending a lot of time outdoors, make sure to apply sunscreen and insect repellent to avoid sunburn and bug bites.
Use public transportation: Resort World Sentosa is easily accessible by public transportation. You can take the Sentosa Express monorail, which connects Sentosa Island to the mainland.
How to Get There?
Public transportation:

Take the MRT train to Harbourfront station (North-East Line or Circle Line).
From Harbourfront station, transfer to the Sentosa Express monorail, located on Level 3 of the VivoCity mall (next to Harbourfront MRT station).
Take the Sentosa Express monorail to Resorts World Sentosa station.

Private car hire or Taxi or Self Drive:

If you are using a ride-hailing app like Grab or Gojek, simply input "Resorts World Sentosa" as your destination and the app will provide you with a ride to the resort.
If you are driving, you can enter "Resorts World Sentosa" into your GPS or map application and follow the directions. The resort has a few parking areas, including the Resorts World Sentosa Car Park and the Universal Studios Singapore Car Park.
Note: Please note that parking rates in Resorts World Sentosa can be quite high, so it's best to check the rates beforehand if you plan to park there.