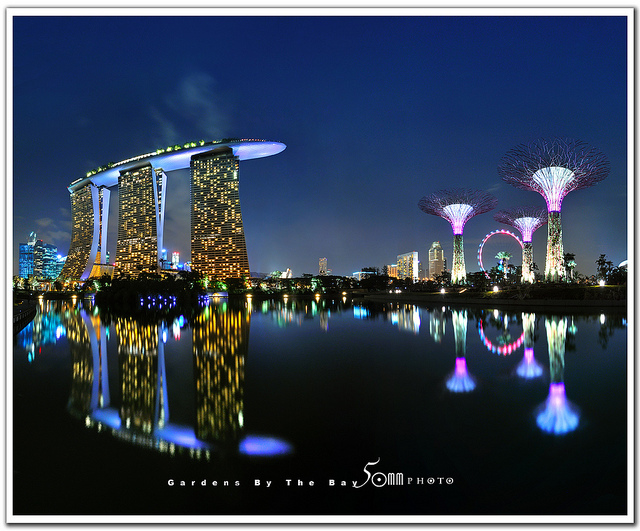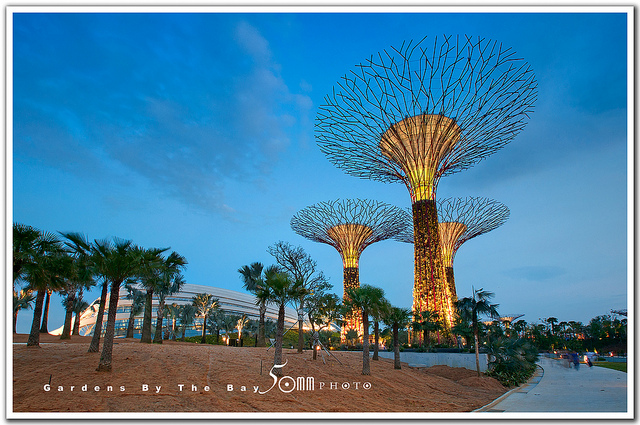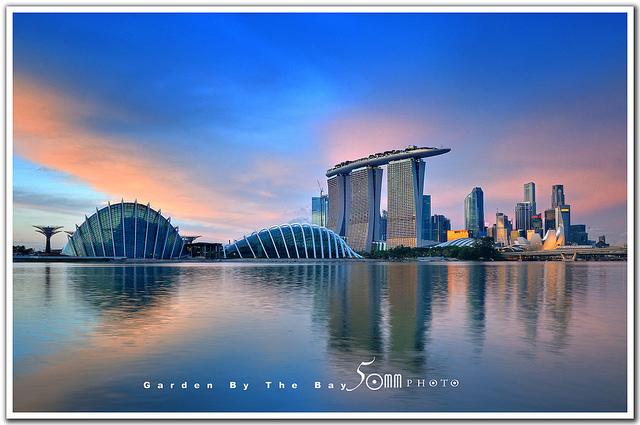 A World Class garden – Garden by The Bay is expected to open in June 2012.
At 1.2 hectares, the Flower Dome is the larger of the two cooled conservatories in the Bay South Garden. It replicates the cool-dry, springtime climate of the Mediterranean-type and semi-arid regions, enabling the display of habitats and plants from regions in South America, the United States, South Africa and Madagascar, Western Australia and the Mediterranean Basin. Designed with the environment in mind, it also incorporates cutting-edge technologies that provide energy-efficient solutions in cooling.
It will be temperature-controlled at 17 to 25 degrees Celsius to replicate the cool-dry climate of the Mediterranean and semi-arid subtropical regions, and will feature an uncommon range of flowers and plants from these climates.
While the conservatories are iconic architectural structures that will add to the identity of the Gardens and Marina Bay, their main purpose is to bring forth the beauty of plants, and tell the story of plants and their intimate relationships with Man and the ecosystem, creating greater awareness among people on the need to protect and preserve the environment.
The Gardens comprise three distinctive waterfront gardens – Bay South, Bay East and Bay Central – featuring two conservatories, themed gardens and a waterfront promenade. It currently has more than 275,000 plants of about 8,000 species and varieties.
About Gardens by the Bay
Gardens by the Bay will occupy 101 hectares of prime land by the water at the heart of Singapore's new downtown at Marina Bay. It will be an integral part of Singapore's City in a Garden vision, and will capture the essence of Singapore as the premier tropical city with an ideal environment in which to live, work and play.
How to Get There:
By Car/Taxi
18 Marina Gardens Drive
Singapore 018953
From East Coast Parkway (ECP) in the direction towards the city, take Exit 17A and turn left onto Marina Place and Marina Boulevard. From Marina Boulevard, turn left before turning left onto Marina Mall.
From ECP in the direction towards Changi Airport, take Exit 17 onto Central Boulevard. Turn right onto Marina Station Road, left onto Marina Street, and left again onto Marina Mall.
By MRT/Bus
Alight at Marina Bay MRT Station.
Take bus service 400 and alight at the bus stop outside the Marina Barrage.
Related Listing
Ion Orchard Tourist Privileges : Download the PDF file. Download ION Orchard APP About ION ...

Singapore's location near the equator gives it a remarkable steady climate through out the year. To ...

From top to bottom: Photo 1: Sight along Singapore River. (Clarke Quay) Photo 2: Anderson ...